Beaches and Designated Swim Areas
The Corps operates 20 designated swim areas around the 38,000 acres of Lake Lanier.  You'll find imported white sandy beaches at some of these, and each has its own features.  Click on the links to find out more information about each park and swim area.
In addition to the Corps swim areas, there's also a beautiful white-sand beach and designated swim area (with a stunning view) at Don Carter State Park.
All swim areas are "swim at your own risk", and there are no lifeguards on duty. It is VERY important to obey these signs as Lake Lanier is one of the most dangerous lakes OUTSIDE of designated swimming areas (likely due to high boating traffic and various submerged debris – read more about Lake Lanier history here).
Swimmers are encouraged to swim at designated swim areas only.
Corps campgrounds with designated swim areas include:

Corps day use parks with designated swim areas include:

Georgia state parks with designated swim areas include:
---
Swimming Options at Lanier Islands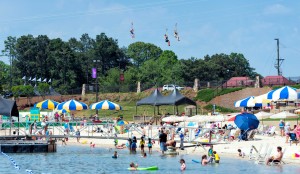 Lanier World Beach and Water Park
Another option and family favorite is LanierWorld at Lanier Islands in Buford. At the Family Fun Park, enjoy Wild Waves, the South's largest wave pool, as well as Raging River, and carival rides.
A short walk through the tunnel takes you from the Family Fun Park to Big Beach, home of the largest collection of rides, slides and dining options at LanierWorld. Across the sand and over the Boardwalk, lies Sunset Cove, THE spot on Lake Lanier for music, entertainment, dining & nightlife.
No Swimming at Lanier Island's Landshark Landing
2023 Update: Prior to the 2023 season, Lanier Islands closed at Landshark Landing (the lake area of the park). You can read more about the reasons why here, but the TL;DR is that it seemed like a liability issue for the resort.
Shoal Creek Campground

Lanier Islands also now operates Shoal Creek Campground, which has another designated swim area.
---
Swimming Options off the Lake
Francis Meadows Aquatic Center in Gainesville has an outdoor water park kids love.  The amenities include: a splash pad, a zero-depth entry pool with water troughs, a kid pool with aquatic slide and water squirters, a swirl pool and current pool, as well as 3-story high water slides.  
There's also an indoor 10-lane competition pool and an indoor 4-lane instructional pool.  There is a snack bar onsite (no outside food allowed).  For a full-listing of prices, hours and amenities, you can visit their website or give them a call at the number below.
Francis Meadows Aquatic Center
Phone: (770) 533-5850
Address: 1545 Community Way, Gainesville, GA 30501
Website: http://www.gainesville.org/frances-meadows