Lake Lanier has two parks named "Van Pugh."  Van Pugh Park North is a day-use area with spectacular vistas of Georgia's Greatest Lake.  Van Pugh Park South is a full-featured campground and is only open to campers and their guests.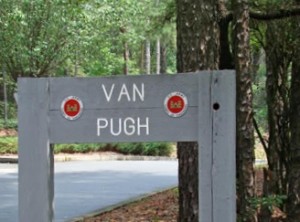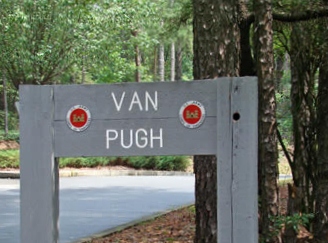 Both Van Pugh Park North & Van Pugh Park South are near Flowery Branch on the southeastern portion of Lanier and are operated by the US Army Corps of Engineers.
Van Pugh offers something that you won't find in many parts of our great nation.  Picnic tables with gorgeous views of the water — picnic tables that easily convert to an outside office.
Please Note:  Alcoholic beverages are prohibited in all Corps of Engineers parks.
More than 7.5 million people a year visit Lake Lanier each year.  The 700-miles of shoreline, the lake's beautiful blue water and spectacular scenery make it a perfect place to visit for a day or an entire vacation.
Van Pugh Park North has terrific day-use amenities, including:
a boat ramp
many picnic tables and grills scattered throughout the park
fun playgrounds
a large picnic pavilion
a sheltered grill area next to the pavilion
a designated swim area and beach
and gorgeous views from many different perspectives.
No pets are allowed in Van Pugh Park.
More than 11.8 million people a year visit Lake Lanier each year.  The 700-miles of shoreline, the lake's beautiful blue water and spectacular scenery make it a perfect place to visit for a day or an entire vacation.
Directions to Van Pugh Park North
This recreational area is on the southeastern shore of Lake Lanier, west of Flowery Branch.
The address is: 6838 Gaines Ferry Road, Flowery Branch, GA, 30542.
Gaines Ferry Road intersects both McEver Road and Atlanta Highway.
Van Pugh North Beach Area
The beach area of Van Pugh North is not immediately visible upon entering the park. To reach the beach, follow the access road (Gaines Ferry Road) all the way to the end and you should see the beach area once there.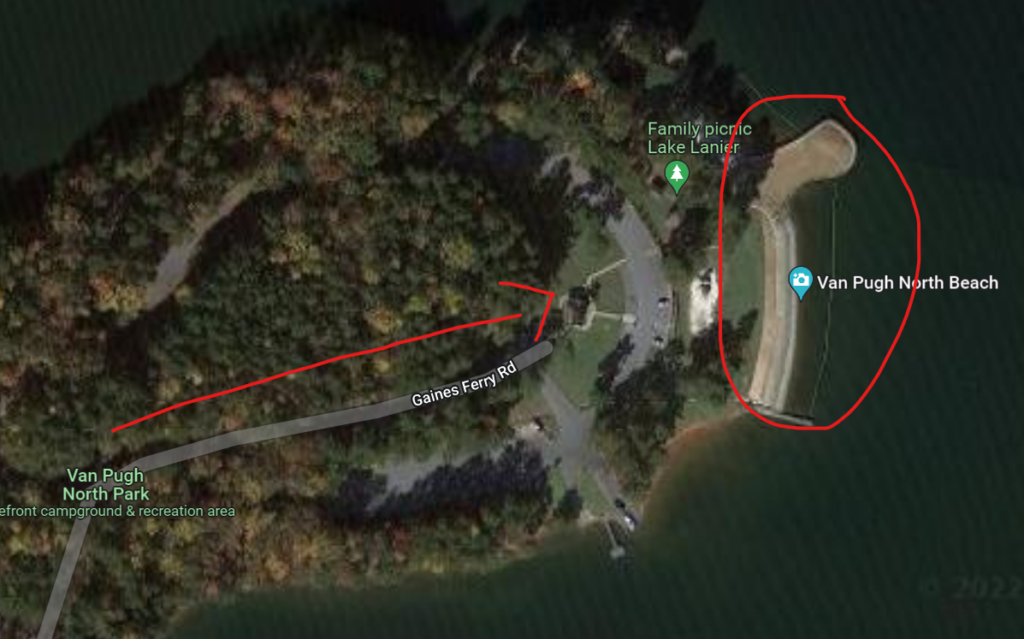 Van Pugh North Park Shelter
In the event of inclement weather or for any other reason, the Van Pugh North Park Shelter area is located just off the beach area in the designated "family picnic area".

Public restrooms are also located just across the parking lot, if needed.
There's also a small playground area located on the beach, near the shelter structure (picnic area).
Van Pugh Boat Ramp
There are actually two different boat ramps in the Van Pugh vicinity.
One is located at the Van Pugh Park North Boat Ramp location, using the same Gaines Ferry Road access point. The boat ramp is the first right at the end of the road (hard to miss).
The other Van Pugh South Boat Ramp access is located in the inlet between Van Pugh South (campground) and Van Pugh North (park) areas. You must actually enter the campground area (past the guard house / gate area) and then the access road will be the first right thereafter.
Van Pugh Park Pavilion Rental
There are many shelters and pavilions available to book on Lake Lanier via the Army Corps parks management.
Per the U.S. Army Corps website:
PICNIC SHELTERS are available at several USACE parks at Lake Sidney Lanier. These shelters are ideal for family reunions, birthday parties or company gatherings.
RESERVATIONS for shelters can be made by going online to https://www.recreation.gov or calling 1 (877)-444-6777. Reservations will be accepted beginning in March through September. Picnic shelters are can be reserved from April 1st through September 30 of each year. Please contact the Lake Lanier Management Office for more information. RESERVATION FEES are charged to offset the cost of operating the shelters. Payment may be made by credit card (Visa, MasterCard, Discover, American Express). Payment of the reservation fee does not include day use fees at selected parks*.
However, as of the last few years the Van Pugh North Park pavilion and nearby areas have not been available for reservation and are strictly on a first come, first serve basis.
Van Pugh South Campground offers 55 delightful camping sites.  Water and electric hookups are available at 37 sites.
There are 18 "primitive" tent-only spots.  (Primitive, in this case, means you have to travel more than 10 yards for pure water, showers and laundry facilities.  That's better than the wilderness, where it's you against vicious lions, tigers, bears and strangers playing banjos.)
Why is Van Pugh Park Closed?
Van Pugh Park WAS closed for a period of time for the Sheriff's office to investigate a spree of vandalism during April 2022. Since then it has reopened, just be aware that this may be a recurring issue and the park may have to close the restrooms and therefore close the park indefinitely if it continues.