War Hill Park has your standard day-use perks: picnic tables, trees and grills.  There are four boat ramps with restrooms nearby.  That's important when a passenger looks at you and says, "I knew that potato salad smelled funny.  We need to go back to shore.  Now!"
War Hill Park is much friendlier than it sounds.
Wife:  We need to talk.
Hubby:  Sure, Sweetykins!  Where?
Wife:  War Hill Park!
Hubby:  Dang.  Am I in that much trouble?
Wife:  Yup
Hubby:  Anything I can do?
Wife:  I get the clicker for the next 12 months and you pick up your socks … forever!
Hubby:  Deal!  Wanna go have a romantic picnic, Schnookums?
Wife:  Okay.  Let's go to War Hill Park.  It's really pretty there!
There's a beach with a volleyball net.  That way, The Guys can vent their primal anger while The Ladies sit in the shade sipping sweet tea and comparing their UPS drivers.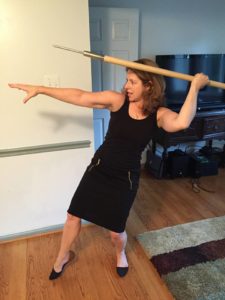 Spend the night at what they call "primitive campsites."  No, you won't need Ninja spear skills to survive.  A tent, sleeping bag and Cheetos will tide you over til morning.  There's a Waffle House close by.
War Hill has 14 secluded campsites.  With restrooms nearby.  Zombies won't try to crash your party.  If they do?  The park has a live Host Camper who will hear you scream … and say a prayer for you.
Having an on-site fire pit, charcoal grill and lantern hook is not true primitive camping.  You'll be right at home.
Remember, for many, that's better than home.
Directions to War Hill Park
On the Atlanta side of the outlet malls, Dawson Forest Road intersects GA 400.
Take Dawson Forest Road away from the outlet malls toward Hwy 53 (Dawsonville Hwy).
Follow Hwy 53 away from the outlet malls.
Or, don't.  It's your marriage, not mine.  If Mama ain't happy…
Go toward Gainesville to where War Hill Park Road and Blue Ridge Overlook cross Hwy 53.
Go east onto War Hill Park Road.
(East is where the sun rises.  If you arrive late at night, maybe wait until sunrise.)
The Host campsite is on the right once you enter the park.
Have fun, but don't eat potato salad that's been in the sun all day.