Thanksgiving is the one day we all set aside to give thanks for our families, possessions and blessings. Make this year's Thanksgiving Celebration the best ever by sharing your bountiful gratitude at Legacy Lodge at Lanier Islands on Thursday, November 28, 2019.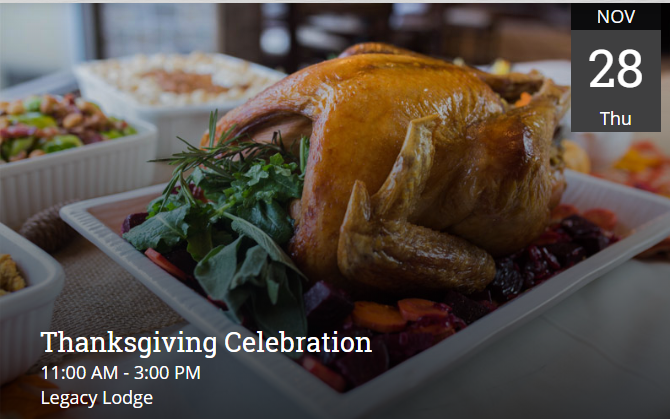 Make your reservations soon and you won't have to cook a turkey, a ham, a roast beast or any of the trimmings! Better yet, you won't have to do the dishes or even clean off the table.
That means you'll have plenty of time to rest before storming the doors before dawn to snag all the stuff that's on sale on Black Friday.
2019 Thanksgiving Celebration at Lanier Islands
Give yourself a break this Thanksgiving by leaving the cooking and cleaning to us! Join us at Legacy Lodge for our first class buffet prepared by culinary professionals.

Enjoy Herb Roasted Turkey, Prime Rib and of course all the side dishes and desserts you'd expect!

Dinner Seating is available from 11 AM to 3 PM. Make it an overnight stay with our Thanksgiving Celebration Package.


https://www.lanierislands.com/event/15449/6293/thanksgiving-celebration-
Compared to the cost of braces, a 2020 Corvette, dinner atop the Eiffel Tower or an exotic European river cruise to see castles, this family Thanksgiving Celebration feast is downright cheap. Peaceful too.