Buford Dam on Lake Lanier is just one of the interesting sights you'll enjoy when you visit West Bank Park.  This rustic recreational area is a hop, skip and a dam away from shopping malls, every flavor of restaurant, and Atlanta — Gotham of the South.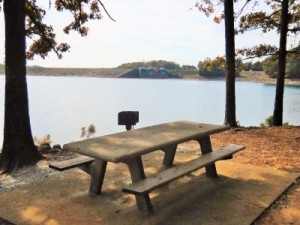 Come by yourself to "get away from it all" or meet new friends who fish from the shore, eat a meal or walk the pleasant paths at West Bank Park.
You'll find everything you need: plenty of bathrooms, tables, BBQ grills, playgrounds, shelters, an easy walking trail and a white-sand beach.
Other parks nearby have boat ramps, but not West Bank Park.
The U.S. Army Corps operates dozens of parks on Lake Lanier.  Each one is perfect for enjoying the outdoors and the magnificence of Lake Lanier.
Lake Lanier was created in the 1950s as a multi-purpose reservoir to provide flood control, power production, drinking water, boating, recreation, and fish and wildlife management.
Today, more than 7.5 million people a year visit Lake Lanier.  Somewhere along the almost 700-miles of shoreline you're sure to find "your spot" that you can return to again and again — until you feel like it's a home away from home.
Your favorite spot on Lanier might be West Bank Park!