The U.S. Army Corps of Engineers (USACE) operates almost 50 recreational areas around Lake Lanier.  The spot with the most awkward name is Little Hall Park.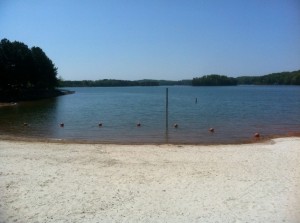 There are no halls and Little Hall Park isn't even little.
It's big enough for picnics, launching boats, family reunions, waltzing down the hiking trails and/or feasting your eyes on the various forms of life that inhabit the lake and shoreline.
Little Hall Park is lined with trees that help shade the sun on hot summer days.  The adeptly placed picnic tables offer comfort for cook-outs and a perch to watch watercraft float or zoom by.
Launch your boat here and catch a fish or ten at one of 100 Secret Fishing Holes nearby.
Don't have a boat?  Do your heart and your attitude a favor and take a lap around Little Hall.   It's healthy exercise with a view that is guaranteed to provide a new outlook on life and on Lanier.
We should probably ask the Corps to rename this spot The Wondrous Woods on Lake Lanier.  That's more fitting than Little Hall Park.  You may wade along the water's edge, float on a raft or swim in the waters of Lake Lanier.  There are no lifeguards, so you swim at your own risk.
Take a drive or a boat ride to 3501 Dawsonville Highway, near Bolling Bridge on Route 53, and see if you agree.
Have fun at the The Wondrous Woods on Lake Lanier — also known as Little Hall Park.