Your favorite park on Lake Lanier is probably the one closest to your home.  That's why Old Federal Park is the one I enjoy the most.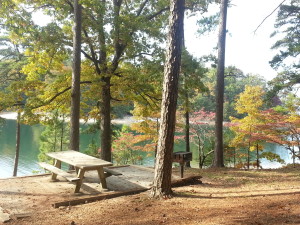 Old Federal Park has everything you would hope for: restrooms, a sturdy pavilion, three boat ramps, beaches, swimming areas, picnic tables and even a volleyball court.
There are spots to be together with your pals and places to get away from everyone.  Your choice.
Old Federal is close to Gainesville, Flowery Branch and Oakwood.  It's one of the 46 parks operated by the US Army Corps of Engineers on Lake Lanier.
Looking for a place to fish from shore — and actually catch something?  This is the park for you.
Sit in a chair and watch the sailboats and clouds float by as you relax.  Until you get a strike from one of the hungry stripers out looking for an easy meal.
Or hit the water to catch the big one!  Spend a few hard-earned dollars and hire a professional fishing guide.  Go for a day (or a few hours) and boat a few stripers from the deep water offshore.  Most guides will pick you up at Old Federal.
Bring your para-sail, kayak, sailboat, your zillion horsepower Miami Vice speedboat or cute tube.  Size doesn't matter when it comes to having fun on Lake Lanier.
Directions to Old Federal Park Day-Use Area
This heavenly spot is easy to find.  From McEver Road in Flowery Branch, go to Jim Crow Road.  Take Jim Crow until you see the sign to turn right toward Old Federal Park at 6175 Jim Crow Road in Flowery Branch, GA, 30542.
If you have an extra couple of days (or weeks), stay at the Old Federal Campground next door.