Young Deer Park is a 14-acre family playground that is beautifully maintained by our friends at Forsyth County Parks and Recreation Department.  For a small fee you may use the boat ramp and handy courtesy dock.  You can safely and quickly load your family into your boat for a happy day on Lake Lanier.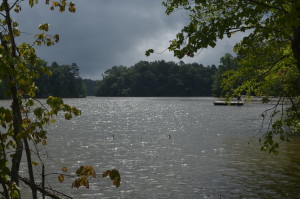 Young Deer Park is only a few miles from Cumming, Georgia.  It's close to Shady Grove Campground,
another popular spot on Lanier's western shore.
Staying on land?  You'll love the sandy beach.  Swim or tan yourself by Georgia's greatest lake.
Day-use areas are open from 7 AM until 10 PM.  The boat ramps are open 24/7.
Brings the kids and have fun pushing them on the swing set.  You can rent the 24-seat pavilion for a memorable day lakeside for a family reunion or company picnic.
The Mission of Forsyth County Parks and Recreation
To enhance the quality of life for all citizens of Forsyth County by providing … recreational, educational and cultural programming services and … parks and recreational facilities that are safe, accessible and aesthetically pleasing.
To rent the pavilion at Young Deer Park call Forsyth County Parks at 770-781-2215.
Directions to Young Deer Park
Address: 7300 Heard Road, Cumming, GA
From Georgia 400, go east on Browns Bridge Road ( Route 369) for about 1.75 miles to the intersection of Shady Grove Road.  Take Shady Grove Road for about two miles.  Turn right onto Heard Lane, which will take you to Heard Road in less than a quarter-mile.  Young Deer Park is right down the road a little ways.