Sawnee Campground is a picturesque location for camping on the south end of Lanier near Buford Dam.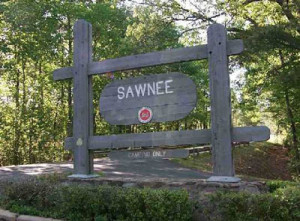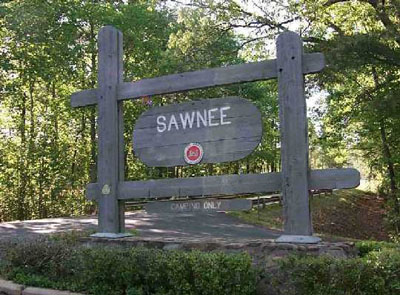 Sawnee is close enough to Atlanta to get away for a night by the shores of Lake Lanier, if you secure reservations before you arrive.
It is also far enough away from Atlanta — and its 3,752 roads name "Peachtree" something — that you can forget its there.
Millions and millions of people come to visit Lake Lanier annually instead of going somewhere else.
Once you begin to explore the 38,000 acres of glistening water, 690 miles of fascinating shoreline or the 100 small islands that are perfect for exploration, you will understand why Lake Lanier is the top choice of so many.
Sawnee Campground has 44 lakeside sites with electric and water hookups, 11 sites that don't have hookups, and 5 for just setting up a tent and "roughing it."
Alcoholic beverages are prohibited.  You'll be surprised at how much fun you can have without a buzz, once you spend time at Sawnee.
Family friendly services at Sawnee Campground:
boat ramp
dump station
fishing
hot showers
laundry facilities
playground and
sandy swimming beach.
Relax at the beach or fish or swim or watch the boats buzz by.  Doing nothing at all is a pretty good choice too.  Don't forget the soda, chips, burgers, salads, plates and all your friends!
Although Sawnee had been open for winter camping, USACE officials announced on April 20, 2018, that the park will close over the winter.
While we are still a long ways off, Lake Lanier has decided to not keep open Bolding Mill and Sawnee Campgrounds for the Winter of 2018/19.  The campgrounds will close entirely on November 30th and reopen March 1st.

This is due to multiple factors, including low turnout, high maintenance and a need to give our dump stations time to settle from the heavy use these campgrounds receive. While we appreciate the campers who came out to winter camp at Lake Lanier, we can no longer support a winter campground operation at this time.
That still gives us plenty of time to enjoy the outdoors on Lake Lanier.
Sawnee Campground
Address: 3200 Buford Dam Road; Cumming, Georgia
Directions: Take US 400 to exit 14.  Go east on Highway 20 east.  Go to Sanders Road and turn left.  At the first stop sign turn right onto Buford Dam Rd.  Sawnee will be on your left down by the water.