Bolding Mill Park is pretty much a pretty boat ramp operated by the US Army Corps of Engineers.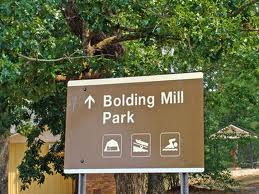 When putting your boat in the water at Bolding Mill, remember that famous saying of ancient whalers: "When Mama's happy, everybody's happy."
Bolding Mill's handy dock will help you load and unload passengers and make everybody happy.  It will come in handy unloading any 700-pound marlins you might catch on Lanier.
Fisherpeople will be happy to know that you can launch your boat at Bolding Mill Park and have access to every fish in Lake Lanier!  All you have to do is catch them.  Simple, huh?
You will find this place of respite at 4055 Chestatee Road in Gainesville, GA, 30506.
US Army Corps of Engineers