As one of the largest lakes in the Southeast, Lake Lanier has PLENTY of boat rental services to choose from.
We created this page to track all of the options, but check some of the superlatives to see which ones we think are best for specific uses or activities.
Paradise Rental Boats: Best All Around Boat Rental
Paradise Rental Boats carries the absolute best boats the industry has to offer.
Take the helm of one of their brand new pontoons, waverunners, deckboats, runabouts, party boats, or houseboats.
Why not have a family reunion, birthday party, or anniversary on the lake? Go skiing, fishing, sunbathing — or whatever floats your boat! It's hassle-free.  Don't pass up a day of fun and relaxation on the water!
Get on the water today!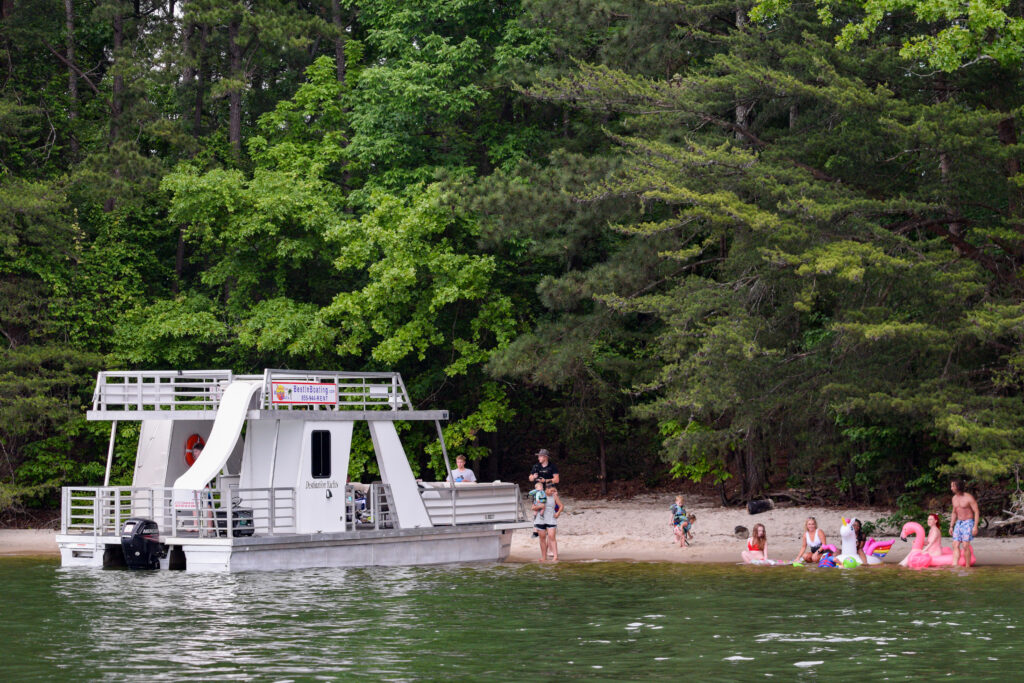 Boat Types Include:
20ft Pontoons
25ft Tritoons
20ft Deck Boats
WaveRunners
32ft MegaCruiser
35ft Destination Yacht
40ft Island Voyager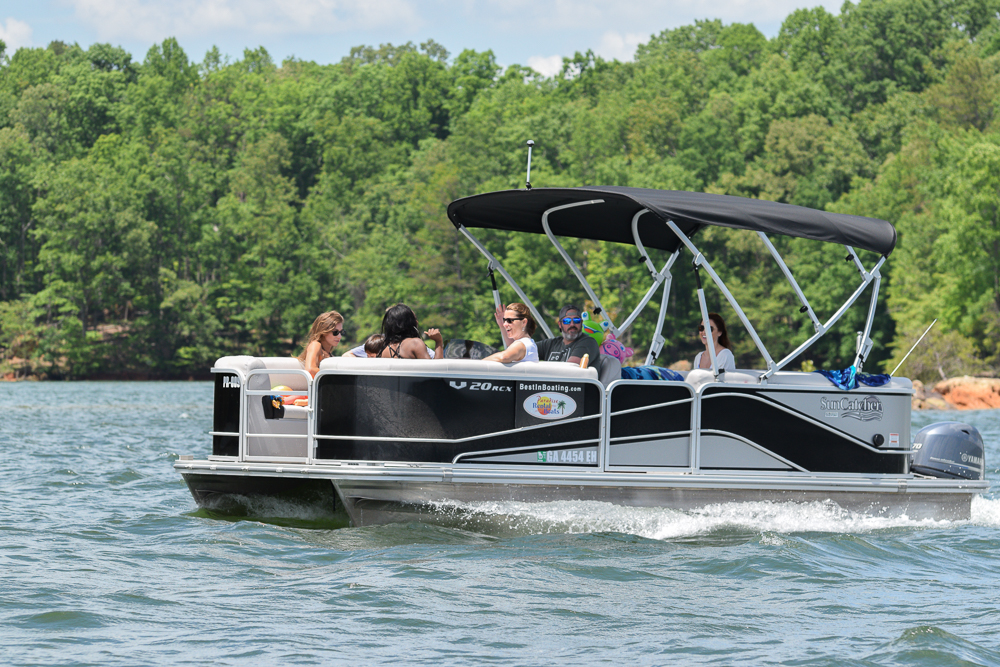 Paradise Boat Rentals Contact Details
Website: Port Royale Boat Rental
Day-time phone: (770) 887-5715
Address: 8800 Port Royale Drive Gainesville, GA 30506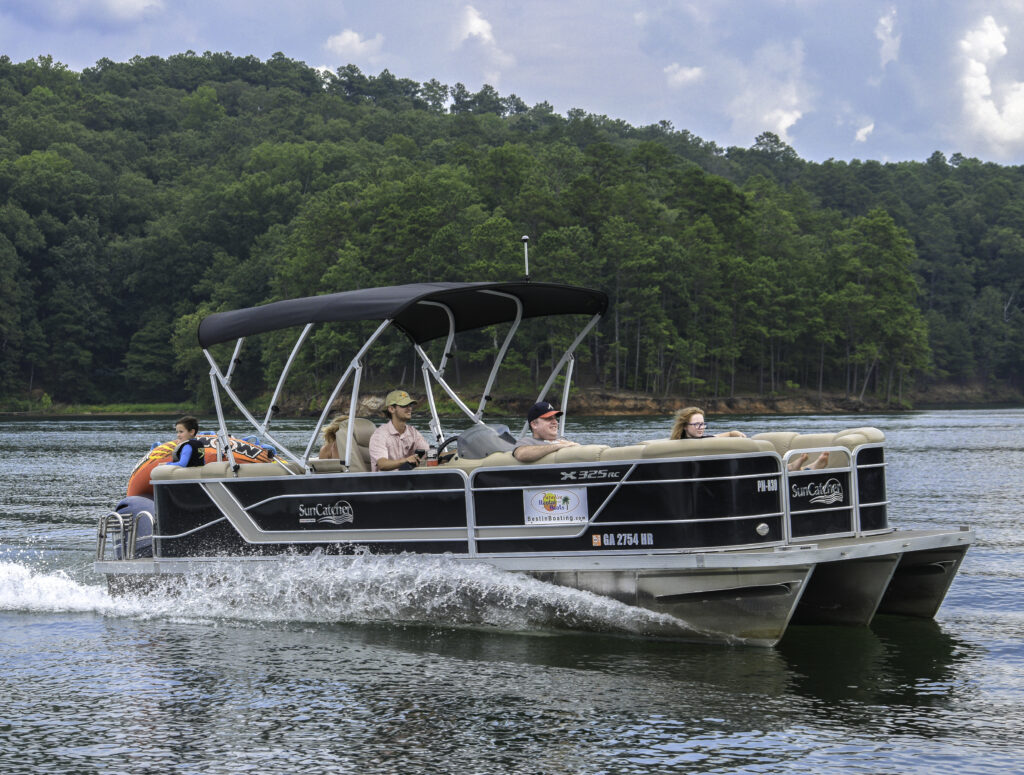 Margaritaville at Lanier Islands: Best Party Boat Rental
Margaritaville is part of the sprawling Lake Lanier Island resort area.
If you are looking spend the day or weekend on a party boat (10+ passengers), Margaritaville has extensive, well maintained options to choose from.
Boat types include:
Catalina Tritoon – 28 Feet, 150 HP, 12 Passenger Capacity
Diamond Plus Tritoon – 25 Feet, 150 HP, 10 Passenger Capacity
Diamond Tritoon – 25 Feet, 115 HP, 8 Passenger Capacity
Gold Tritoon – 24 Feet, 150 HP, 11 Passenger Capacity
Platinum Tritoon – 22 Feet, 115 HP, 10 Passenger Capacity
Picnic Pontoon – 30 Feet, 150 HP, 15 Passenger Capacity
Party Barge – 36 Feet, 150 HP, 20 Passenger Capacity
Lake Lanier boat rental pricing changes, so you can review the details for each of these boat options here.
Margaritaville at Lanier Islands Boat Rental Contact Details
Website: Margaritaville Resorts
Reservation Phone: (470) 323-3465
Address: 7650 Lanier Islands Pkwy, Buford, GA 30518
Aqua Sports Adventures: Best Affordable Boat Rentals
Aqua Sports Adventures offers a variety of sport boats and pontoons, starting at slightly more affordable daily rates (versus only partial days or hourly offered elsewhere).
Located conveniently at Holiday Marina on Lake Lanier.
Some of their boating options include:
Deck Boats – 150 HP, 9-10 Passengers
Bowrider – 175-200 HP, 4-6 Passengers
Premium Bowrider – 150 HP, 9 Passengers
Pontoon (21 ft) – 60-90 HP, 8-9 Passengers
Pontoon (22 ft) – 115 HP, 10 Passengers
Premium Pontoon (24 fit) – 150 HP, 15 Passengers
Aqua Sports Adventures Contact Details
Website: Aqua Sports Adventures
Reservation Phone: (770) 932-3366
Address: 6900 Lanier Islands Pkwy Buford, GA 30518
Bait Shack Watersports: Best Lake Lanier Fishing Boat Rental
If you are specifically looking for boats outfitted for fishing, the Bait Shack is a great, specialized rental option to check out.
What makes their boats different? They come with rod holders, live bait, fish finders and plenty of safety equipment. Just bring your rods & reels.
They also offer year-round boat rentals and fishing charters for a more curated experience of the best Lake Lanier fishing spots.
Bait Shack Contact Details
Website: Lake Lanier Boat
Reservation Phone: (678) 234-4371
Address: 4900 Pilgrim Mill Rd, Cumming, GA 30041