Toto Creek Campground offers the best of two worlds: the one where shoppers want to "browse" around 150 stores at outlet malls, and the world where people like to camp in what are called "primitive campsites."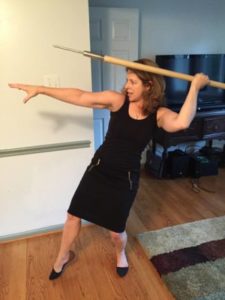 After you max out your cards at the North Georgia Premium Outlets, load your car and drive a few minutes to camp in the wilderness!
Yes, the wilderness at Toto Creek Campground has restrooms, picnic tables, a boat ramp and a swimming hole. No, the campsites don't have electric or water hookups. So, they're as primitive as your backyard.
Camping used to mean hiking into a forest and pitching a tent. You carried whatever you needed. If you forgot something, you did without it.
Here? You can buy anything you want at fancy shops around the corner, including: Burberry, Coach, Gap Outlet, Nike, Pottery Barn Outlet, and a Ralph Lauren Factory Store.
Snag the perfect Little Black Dress, then pretend you're in deepest, darkest Africa at Toto Creek.
Bring a tent, tarp or hammock and sleep outdoors. Camp like the pioneers!
Call your husband "Tarzan!" Grill burgers over a campfire and make up scary tales about why the horizon has such a mysterious and eerie glow.
Circle your Beemers at Toto Creek!