Some recreational areas on Lake Lanier are less beautiful than others.  Long Hollow Park, for instance, is the red-headed stepchild of parks in North Georgia.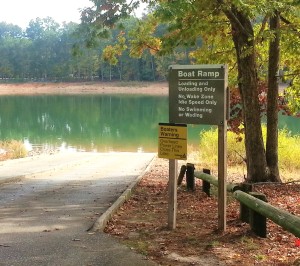 Compared to endless fields of amber-waving grain in one of the flat, boring states in mid-America, Long Hollow Park is still one of the prettiest places around.
It's sad, but on Lake Lanier — where all the parks are beautiful — Long Hollow is merely one of dozens of lovely picnic areas with boat ramps operated by our pals at the US Army Corps of Engineers.
The Corps says more than 7.5 million people a year visit Lake Lanier.  With almost 700-miles of shoreline, the lake is loved for its aqua-blue water, spectacular scenery and recreational opportunities.
Lanier was constructed in the early 1950s as a multi-purpose lake that provides for flood protection, power production, water supply, navigation, recreation and fish and wildlife management.
One attribute that makes Long Hollow Park special is its elevated path along the lakeshore.  Sitting is nice, but moving around is more healthy.  Enjoy your lunch, then walk off the french fries.
Long Hollow Park Directions
Long Hollow is in the northwest of Lake Lanier, at 8525 Bryant Road, Gainesville, GA, 30506.
Take Dawsonville Highway (Route 53) west of Gainesville toward the intersection of Keith Bridge Road (Route 306).  Look for Waldrip Road.  Go southward on Waldrip Road for about a half-mile.  Then, turn left onto Bryant Road.  Long Hollow Park is on the left.  You can't miss it, unless you are driving and texting at the same time and hit a tree or a jogger.