Thirty years ago — in 1988 — the Lake Lanier Association (LLA) held its first Shore Sweep event.  LLA's volunteers have removed tons of junk from Lanier ever since.  Their 30th Anniversary Shore Sweep was the best yet!
So much has changed since 1988.  We're in the fourth decade since the first Shore Sweep.  We're in a different century and a new millennium!
President Reagan is no longer our president.  He's not even alive, although some people believe he's sharing an apartment in Madrid with Elvis.
Back in 1988, the average new car sold for just over $17,000.  Gas was 91-cents a gallon.  You could pick up an average house in an average town for an average of $91,600.
Many of the mighty have fallen in the past 30 years.  The Cosby Show is no longer the #1 TV program and Roseanne is no longer in second place.  My, how things change.
The oddly titled movie, A Fish Called Wanda, was the top movie at the time.  The number one song?  Guns N' Roses – Sweet Child O' Mine — with such complicated opening notes that it would take a novice guitarist almost an hour to master — topped the record charts.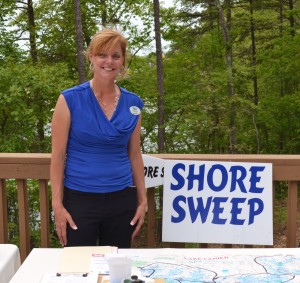 What hasn't changed in 30 years?
The dedication of Lake Lanier Association volunteers and staff who organize the annual Shore Sweep clean up efforts.
Yes, Wilton Rooks is the new LLA president.  Joanna Cloud — whom we believe was about five years old in 1988 — is the executive director of this outstanding non-profit organization.
This project began with neighbors gathering together to make a dent in the junk left around Lake Lanier by the careless and hapless.
The 30th anniversary Shore Sweep brought together literally thousands of individuals, along with church groups, civic organizations and every manner of lover of Lake Lanier.
We honor them and thank them for their skills and for investing their lives in keeping Lake Lanier clean, full and safe for the millions of people who enjoy Georgia's Greatest Lake!