Millions of annual visitors will agree that activities on Lake Lanier are varied and exciting — whether you get onto the water or have your fun on shore.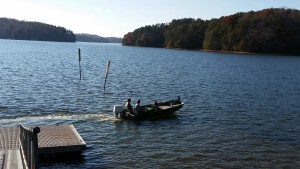 You'll never run out of ways to have fun on — or around — the lake.  While planning your trip, be sure to take advantage of all the activities the lake offers.
During your stay, you could reserve a biplane ride to catch a bird's eye view of the lake.  Or simply enjoy the lake by renting a boat, kayak or a canoe.
There are world-renowned golf courses and the lake offers some of the best fishing opportunities in the region.
Activities on Lake Lanier
Not enough for you?  Atlanta isn't far away if you want the whole Bright Lights, Big City thing.
There's a wonderful place for a walk a few dozen miles away from Lake Lanier.  They call it the Appalachian Trail.
No matter how far you stray, be sure to come back to Lake Lanier for the best rest and relaxation you'll find anywhere — day or night — all year long.