Sleeping outdoors at Lake Lanier's Van Pugh South Campground might solve all your problems! Rough it in a tent … or tough it out in an RV the size of the Starship Enterprise. Anywhere along Lanier's shoreline is good medicine.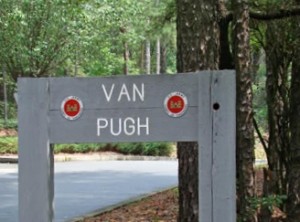 The US Army Corps of Engineers (USACE) operates other parks on Lake Lanier that are almost twice as large, in terms of the number of campsites. Van Pugh South "only" has 37 sites with running water and electricity. That makes it one of Georgia's most cozy campgrounds.
There are 18 "primitive" tent-only spots. (Primitive means: you need to walk more than 20 feet for pure water, showers and laundry facilities. It's not primitive, compared to fighting off nasty neighbors or pythons.)
Amenities include accessible flush toilets and showers, drinking water, laundry facilities and a dump station. There's a convenient accessible boat ramp too.
The Beauty of Lake Lanier
Lake Lanier is just like The Thousand Islands along the Saint Lawrence Seaway between Canada and New York State with these exceptions:
Lake Lanier is not freezing cold eight months of the year.
Lake Lanier only has 100+ islands.
On Lake Lanier you're not in danger of being swamped by giant oil tankers.
Lake Lanier is not freezing cold eight months of the year.
Lake Lanier is not 1,050 miles from Atlanta.
Lake Lanier does not have mosquitoes large enough to carry off small pets.
Lake Lanier is always nice and warm with perfect weather (some restrictions apply).
People don't say, "Eh?" at the end of every sentence.
Please Note:
Alcoholic beverages are prohibited.
Due to road conditions in the campground, RVs over 26-feet-long are not permitted
Address & Directions to Van Pugh
Phone: 770-967-6315 (Not for reservations, sorry.)
Address: 6749 Gaines Ferry Road; Flowery Branch, GA 30542
GPS Latitude & Longitude: 34°11'4″N, 83°59'26″W
Directions: Take I-985 to Exit 8. Go east on GA Highway 347 (Friendship Road). Turn right on McEver Road. Turn left on Gaines Ferry Road and follow signs to the campground.