Our pal, President of the Lake Lanier Convention and Visitors Bureau Stacey Dickson, was honored among the state's top tourism professionals at the 2019 Georgia Governor's Tourism Conference on September 10.
Stacey received The Larry Allen Tourism Leadership Award, which recognizes an individual who demonstrates excellence in leadership skills and abilities. The award is given in memory of Larry Allen, who was General Manager of Stone Mountain and exemplified all around friendship, support and leadership in the tourism industry.
It's a humbling honor to be recognized by my peers for this leadership award. Over my career I've been blessed to work in beautiful places with loving people who encouraged my creativity and allowed me to grow personally and professionally.

I owe a huge debt of gratitude to my parents and the opportunities they put in my path to help me learn how to lead. Servant leadership is something I was exposed to early in my work life and it has been a hallmark of my leadership style over the years.

I'm proud to say I have harvested many friendships along my journey. This award was such a wonderful pat on the back, I appreciate the honor and promise to keep up the good work.

Stacey Dickson
Executive Director of Lake Lanier Islands Development Authority
Bill Donohue added praise for Stacey:
If you google dynamic, professional, talented tourism leader–Stacey Dickson will be at the top of the page! She is the energizer bunny of CVB Directors and leads the Lake Lanier CVB with passion, determination and charm. Stacey flat out gets more done with less money and staff than any CVB I know of in Georgia. She has put together a fantastic team of marketing professionals that can handle anything from a Flowery Branch Gilmore Girls Block Party to the International World Dragon Boat Championships. The Board is so very proud of her and thankful that she calls the Lake Lanier CVB her home.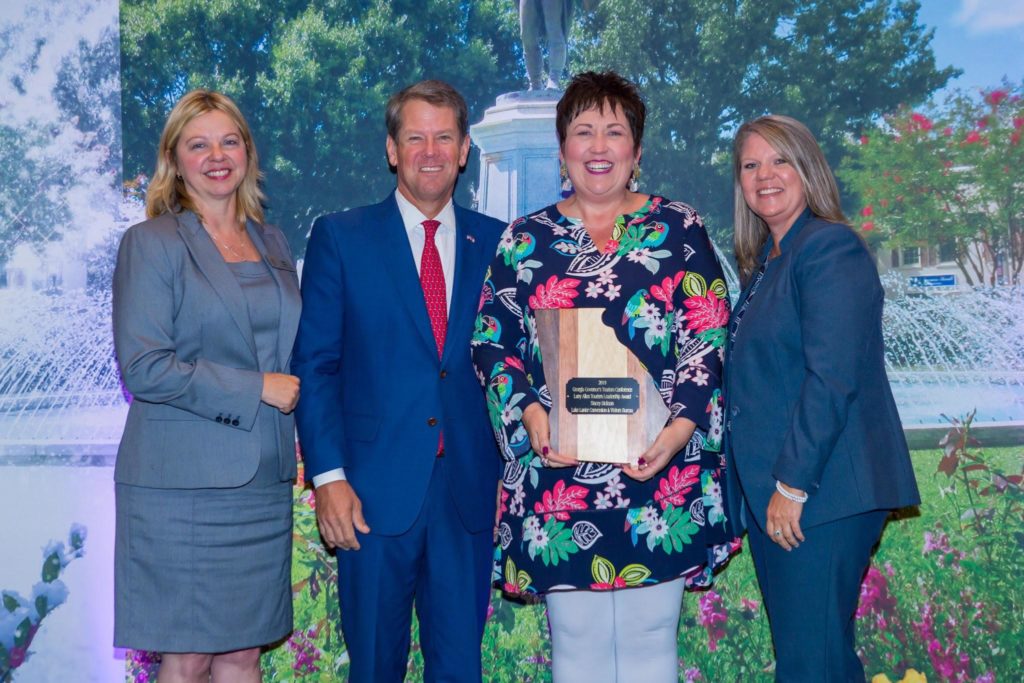 At the conference, Governor Brian P. Kemp recognized the performance and impact of the state's tourism industry while attending the 2019 Georgia Governor's Tourism Conference in LaGrange.
Other honors went to the Gainesville Convention & Visitors Bureau; specifically, Regina Dyer and her marketing campaign Free Range Chickens of Gainesville. Regina truly earned her award for creative expression.
This annual educational and professional development event brought together more than 400 tourism industry professionals from across the state. Visitors in Georgia spent an estimated $31 billion in 2018–a 4.8% increase over 2017 numbers.
The Georgia Department of Economic Development (GDEcD) and the Georgia Association of Convention & Visitors Bureaus hosted the event.
"Tourism is a key piece of Georgia's success story," said Governor Brian P. Kemp. "As the top state for business for the sixth year in a row, visitors to Georgia are a crucial sector of the state's economy. Travelers explore our outdoor activities, food, music, arts, culture, and historical venues while supporting small businesses and local communities. I look forward to the Peach State building on 2018's record year and continuing to be a worldwide destination for those looking for Southern hospitality."
During the conference, Governor Kemp recognized the contributions of select organizations and individuals in Georgia's tourism industry by presenting nine Georgia Tourism Awards. The peer-selected awards acknowledge individuals and businesses in Georgia who have demonstrated dedication, creativity, and excellence.
The Georgia Governor's Tourism Conference provides a platform to educate members of the tourism industry about travel and tourism-related issues on a national and statewide level, focusing on emerging trends as well as ways to reinforce current tourism efforts and future initiatives.
We're proud to know Stacey and Regina and to have this opportunity to publicize their worthy efforts and accolades — even though posting this story will bring me no closer to fame and/or fortune the next time our picturesque area is selected as the location for another movie in which I could have a role with Nicole Kidman.