Hundreds of volunteers will be taking trash out of Lake Lanier on Saturday, September 14th all around our favorite body of water from 8 AM until 1 PM for Shore Sweep 2019.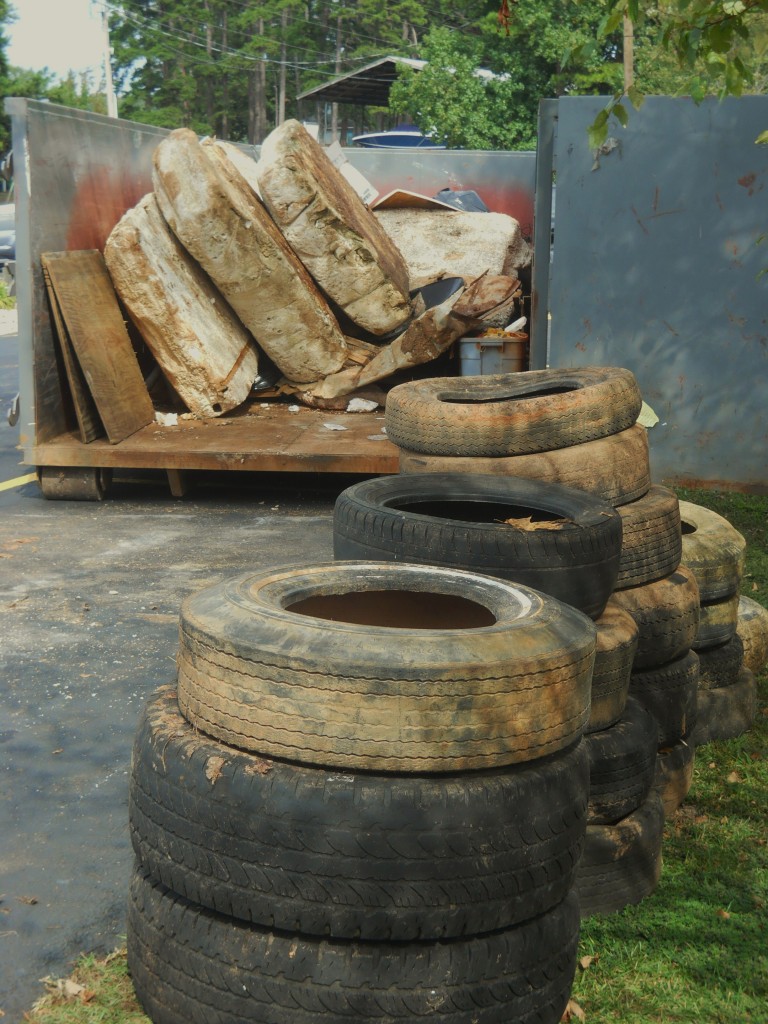 Volunteers are primarily needed by the not-for-profit Lake Lanier Association to remove gar-bajj from islands, coves and shorelines and take it back to one of the collection sites around Lanier.
Other important jobs are checking people in, distributing cleanup supplies and passing out T-shirts and refreshments.
The two rules for Shore Sweep Volunteers are: have fun and stay safe! If you'll be in a boat, please wear a life vest. If you'll be handling stuff that you find laying (lying?) around, please wear a decent pair of gloves. Try to remember to bring sun screen, bug spray, plenty of water and sturdy shoes — not flip flops. Garbage bags will be provided.
Click Here for Shore Sweep Volunteer Tips & Info
Yes, you're going to get dirty. Look on the bright side! If you meet The Most Perfect Person EVER … he or she will also be grungy. That means the next time you see them ought to be a pleasant surprise! (Presuming they bathe.)
2019 Shore Sweep Volunteer Registration
Shore Sweep Volunteer Sites
Here's where you can drop off junk or hang around and help others!
LAqualand Marina (public boat ramp)
Bald Ridge Marina (Public Boat Ramp)
Balus Creek Boat Ramp
Clarks' Bridge Boat Ramp
Don Carter State Park (public boat ramp)
Gainesville Marina (Public Boat Ramp)
Gwinnett Park boat Ramp
Lake Lanier Islands (walkers only at welcome center)
Longwood Park (boat ramp)
Port Royale Marina (public boat ramp)
University Yacht Club (Yacht office boat ramp)
Warhill Park boat ramp.
Actually, you don't have to wait until the 14th to clean up Lanier. You can help beginning on Sunday, September 1st. That's when advance locations will be open and ready for all the trash you can carry. The advance locations are NOT the sites that will be open during Shore Sweep. In fact, they're only accessible by boat.
Shore Sweep Advance Locations
The lake map coordinates are from the Atlantic Mapping Recreation and Fishing Guide for Lake Lanier.
Map coordinate J-7, closest buoy marker 1SM, old beach at Shady Grove Park
Map coordinate H-7, closest buoy marker 4YD, Beaver Ruin Road shoreline area
Map coordinate L-3, closest buoy marker 2SC, Gwinnett Park
Map coordinate N-9, closest buoy marker 14, Gaines Ferry Islands
Map coordinate L-18, closest buoy marker 33, Keith's Bridge Island
Map coordinate M-24, closest buoy marker 49, Old Dawsonville Highway road bed near DNR regional office and Martin Docks
Map coordinate M-28, closest buoy marker 2WC, unnamed island
Map coordinate D-21, closest buoy marker 21C, Nix Island
Lake Lanier Association Shore Sweep Info