What's the best way to see Paris? Going there, right? What's the best way to experience the greatest lake in Georgia? On the water! So, rent a boat on Lake Lanier.
It's only a guess, but you can probably rent a boat for a day on Lake Lanier for less than the cost of adding a trailer hitch and a wiring harness to your car so that you can immediately back into that dang tree in your yard with your boat — causing you to have to rent a boat instead of using the one you're making payments on.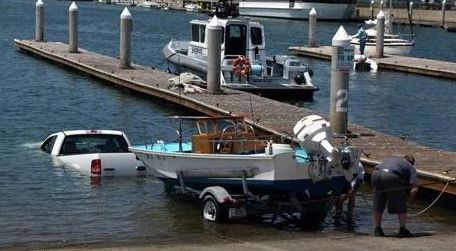 I owned a boat. One my life's biggest mistakes. Whenever I had a day off, the weather was crummy. Whenever the weather was perfect, I had to work.
At least it was insured while it was parked in my backyard, unused. When I was all ready to master my vessel, it wouldn't start.
Avoid the hassle. Just rent a boat when you're ready to hit the lake. When you're done for the day, let somebody else gas it up, clean it up and park it until next time — while you enjoy more time with friends and family.
Snag a giant sucker with a competent captain at the helm. Maybe a zippy runabout for skiing and tubing to your heart's content. Book a nifty houseboat so that you can live it up day and night with your family and friends. See the lake at 50 MPH on a personal water craft. Or, just go fishing. Boats come in all sizes for almost any budget.
Think the price is too high? Calculate your savings on sales tax, tag fees for a trailer, insurance, and all the flotation devices that come for free when you rent a water craft, instead of sinking your savings into a new boat.
As summer winds down, exquisite days are ahead for boating on Lake Lanier.
The best part? For a limited time, as of August 1, 2019, boat rentals at Harbor Landing at Margaritaville on Lake Lanier are on sale for 25% off the regular price.

Be your own captain and explore Lake Lanier's 38,000 acres. With the largest fleet of boats for rent on the lake, we offer a large variety of pontoons, tritoons, houseboats and VIP Excursion Yachts.

In addition, tubes and water sports equipment are here for your enjoyment.


https://www.lanierislands.com/margaritaville/attractions/boating

Don't worry. They don't let people like your crazy uncle rent boats. But you should have no problem.
The Summer Fun Boating Special at Harbor Landing on Lake Lanier