One of the hidden gems near Lake Lanier is the Elachee Nature Science Center in the Chicopee Woods Nature Preserve in Gainesville.
Each year, Elachee educates 35,000 students and informs 30,000 visitors at the museum in the 1,400-acre preserve.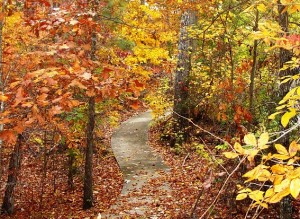 Visit the Elachee Nature Science Center on Sunday, November 1, 2015, from 2-4 PM and enjoy the outdoors at their Trick or Trek Trail Run — a 5K walk/run and a 10K trail race.
Wear your Halloween costume and scare a squirrel or two as you enjoy the forest at your own pace.  You might even win a prize for best costume!
This race is a challenging and serene off-road running experience through the forest with a series of hills and bridged stream crossings.
All proceeds benefit the non-profit Elachee Nature Science Center.
Elachee's Trick or Trek Trail Run Info
5K Cost: $ 25 (before 10/31); race day- $30
10K Cost: $35 (before 10/31); race day- $40
Race participants will receive one "Dri-Fit" race shirt per participant!  No guarantee of T-Shirt with late or race day registration.
Water, Gatorade and snacks will be provided for runners.
Phone: 770-535-1976
Email: [email protected].