Jennifer Flowers is the new executive director of the not-for-profit of the Lake Lanier Association following the resignation of Joanna Cloud. She's the perfect person to help keep Lake Lanier Clean, Full and Safe.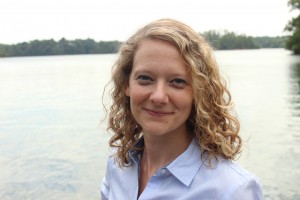 Jennifer Flowers (no, not THAT Gennifer Flowers) graduated from UGA (Go Dawgs!) with "a B.S. in Ecology, a Masters of Environmental Law and Policy from Vermont Law School and 10 years of experience working in the water resources field. In addition, she was accepted into the 2019 class for the Institute for Georgia Environmental Leadership."
"… we are announcing Jennifer Flowers as the new Executive Director for the Lake Lanier Association.

Jennifer is a local Hall County resident with the education, work experience and competence to become a great asset for our Association. She comes to us from the City of Gainesville Department of Water Resources and shares our passion for Lake Lanier and preserving our natural resources.

John Barker, LLA President

Come and meet Jennifer in person — while working alongside her — at Shore Sweep on Saturday, September 14, 2019.
In Jennifer's words: "I believe Lake Lanier is the most important resource for the surrounding communities and arguably all of Metro Atlanta. It is an economic driver for regional opportunities for recreation, area development and drinking water for residents and industries. Without Lake Lanier, the region and state would not be what they are today; which is why I am thrilled to be in this new role."