When is the last time you wore a bikini or a Speedo on Gainesville's Square?  Too long, right?  Well, please keep that streak going when you come to the 4th Annual Beach Bash!
One of the best parts of the Beach Bash is you don't have to worry about rip currents or sharks!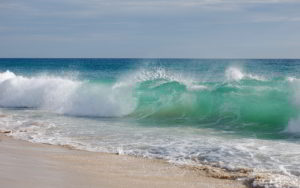 The Downtown Square will be transformed into the world's best beach with nearby shopping, brews, jewelry, clothing and pizza.  Not to mention the best in snooty, sumptuous food anywhere at Scott's.
Yes, this is the best idea that Gainesville has had since they built the Bridge to Nowhere.  In fact, spreading 100 tons of sand around the Square for hula-hoop contests and limbo competitions is a WAY smarter!
Set up your beach chairs, pop some suntan lotion on your bod, put your toes in the sand and sing along with an incredible Jimmy Buffett tribute band: A1A.
After obtaining appropriate permissions, grab your honey and head to the beach bash on Friday, July 6, 2018.  The tide of fun hits the shore of the Square around 7 PM.
The band begins to play about 8 o'clock and flows smoothly until 11.  After that, brush the sand off your feet … or wherever … and have fun at one of the hot spots around the Square.
Please Note:  We were only kidding about wearing Speedos, guys.  That's not be a great idea.  We were not kidding about ladies wearing bikinis.  That would be a great idea.  After all.  It's the beach.
The price is right for hanging out at the beach.  It's free!  Bring the whole family.