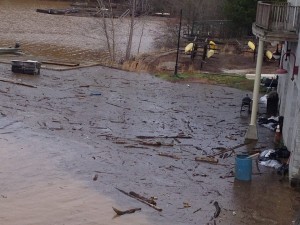 Lake Lanier Olympic Venue Manager Morgan House is calling for volunteers to help remove debris that washed ashore when the lake flooded the cove used by the Lake Lanier Rowing Club (LLRC).
[We need help] Cleaning the boat apron in front of the boathouse [Thursday, January 14, 2016] at 4:30 pm.  If you are available, please bring gloves, shovels, pitchforks and wheelbarrows.  We will need all the help we can get.
Our pal with the LLRC, Duane Schlereth, added this update:  
James and I have cut up most of the big logs that are on the boat apron today.  [Thursday, 1-14-16] at 4:30 we will need as much help as possible to move all of these logs into the dumpster.
"Once we move all the big logs and sand bags into the dumpster, we will begin moving the smaller stuff.  We will need to move the rowing skiffs out of the way to get the debris that was washed under them," said Duane.
With enough assistance, the LLRC could clean up most of the mess in one day.  Plans are to add new gravel on the apron after the removal of debris.