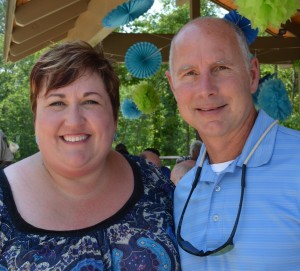 You may have never heard of the Lake Lanier Convention & Visitors Bureau (LLCVB) or LLCVB President Stacey Dickson.  They focus on telling folks near and far about all the reasons why Lake Lanier is a wonderland that everyone should visit.  Often.
Stacey and her team work with anyone who can help make Lake Lanier a must-see destination.  She is masterful at her job.
Once a year, LLCVB has an annual meeting that's part formality, part delicious BBQ (Thank you, Southern Smoq BBQ!) and part hanging out with people who have dedicated much of their lives to the betterment of Lake Lanier.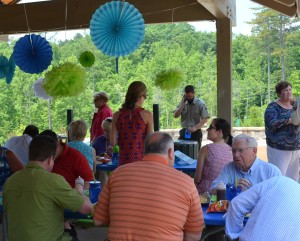 This year's gathering was held on Tuesday, June 17, 2014, at Don Carter State Park at the northern end of Lake Lanier on the Chattahoochee River.
The casual group of 50 or 60 people blended in with one another on a typically gorgeous day on Lake Lanier.
You might not even have noticed the inconspicuous white-haired gentleman in the blue shirt.
That was Don Carter, the man who served our great state for decades and who poured himself into the task of developing what would become a glorious state park named after him.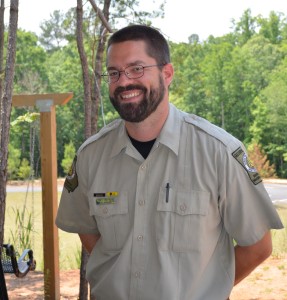 The team at Don Carter State Park was there too.  Park Manager Will Wagner informed us that kayaks can now be rented at the park.  He also said more trails are being planned and other amenities will be added in the near future.
The park won't be a year old until July 17th, but they expect the first year's visitor count to exceed 250 thousand.  The park has weekly programs for young and old.
A new "Friends Group" will soon be forming, with the first meeting appropriately scheduled for July 17th.  Those new Friends are going to make the park even better.
Once again this year, the Lake Lanier Convention & Visitors Bureau passed out awards to honor those who contribute to the success of the organization's mission.
2014 LLCVB Honorees
Don Carter was given the "Sky's the Limit Award"
Gladys Wyant earned the "Out of the Box Award"
Shelley McMahon was presented with the "Blazing Star Award"
Caroline Black and Jaemor Farms were honored by the "Horizon Award"
Nick Baggett accepted the "Chairman's Award" on behalf of the U. S. Army Corp of Engineers
lakelanier.com & Robert Sutherland were honored to receive the "Beyond the Call Award"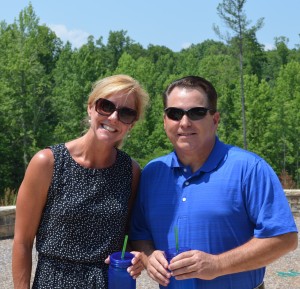 We are tremendously fortunate to have Stacey Dickson working to bring visitors (and their money) to Lake Lanier.
We're fortunate to have Joanna Cloud and the Lake Lanier Association, who work to keep Lanier clean, safe and full.  The Army Corps of Engineers gets a bad rap, as they say, but Nick Baggett is a public servant who actually serves the public — and he's a nice guy.
Those who attended represented many different organizations and corporations, including Lake Lanier Islands; the Lake Lanier Association; many local and area businesses; the Greater Hall Chamber of Commerce; and, Ken Watkins, who operates North Georgia Canopy Tours in Lula, Georgia, among others.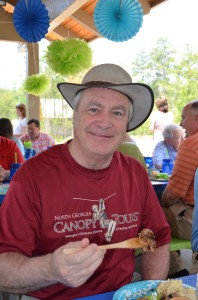 If you ever have a meal with Ken prepare yourself for a pleasant education in zip lines, disc golf and air-conditioned teepees.  Honest.
There are too many others to mention whose collective efforts make Lake Lanier one of America's premier vacation and recreation destinations.
We are grateful for them all.