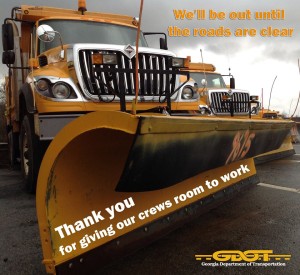 On Tuesday evening, January 19, 2016, Georgia Governor Nathan Deal declared a state of emergency in preparation to icy weather headed for North Georgia.
In response to the onset of freezing rain, sleet and an expectation of an inch or two of snow, more than a dozen school districts in North Georgia either canceled classes or shut down early on Wednesday, January 20th.  If history is any indication, they won't be open in the morning.
Gov. Nathan Deal issued a state of emergency for 15 counties under a winter storm warning, including Dade, Walker, Catoosa, Chatooga, Whitfield, Murray, Gordon, Fannin, Gilmer, Union, Towns, Pickens, Dawson, Lumpkin and White Counties.
Governor Deal said, "The winter storm is predicted to cause snow and ice accumulations on roads and bridges in affected areas, and the safety of our residents is my top priority.  I've directed the Georgia Emergency Management Agency/Homeland Security (GEMA/HS) to coordinate with the [state agencies] move assets to area where snow and ice are expected.  GEMA/HS will work with local officials, including those school systems, to ensure resources are available as needed."
Folks from frigid northern states might scorn the shutting down of city halls, schools and churches because of a little snow.  To care for our own and to protect our families, we don't risk loved ones on icy, snowy roads during infrequent storms.