There's an old saying, "The precious possession of a man is diligence." The organizers of Dahlonega Trail Fest 2019 exhibit copious quantities of diligence. If they didn't, this fantastic festival would have lost its way.
This used to be an Appalachian Trail (AT) kick-off convention scheduled to coincide with the first day of spring — a popular starting date for north-bound AT hikers (better known as "no-bo's"). Reality, cold weather and the difficulty to find sufficient numbers of responsible volunteers forced the change of dates to early September for this weekend-long annual affair.
Personally, I would be happy to celebrate broccoli or just about anything else in Dahlonega — the sweetest hippie-ish community in Georgia. You can let the good times roll at the Dahlonega Trail Fest 2019, even if you're not a homeless stoner from San Franpyscho!
In fact, the more you like to hike the exquisite hills of North Georgia, you more you will love meeting famous hikers, gawking at the latest gear, enjoying movies about the Trail, hearing mountainous tales from thru-hikers, and hoping to meet the clouds of wannabees that will descend on Dahlonega from Friday, September 6, 2019 through Monday, September 9th, when volunteers will stow all the stuff for next year.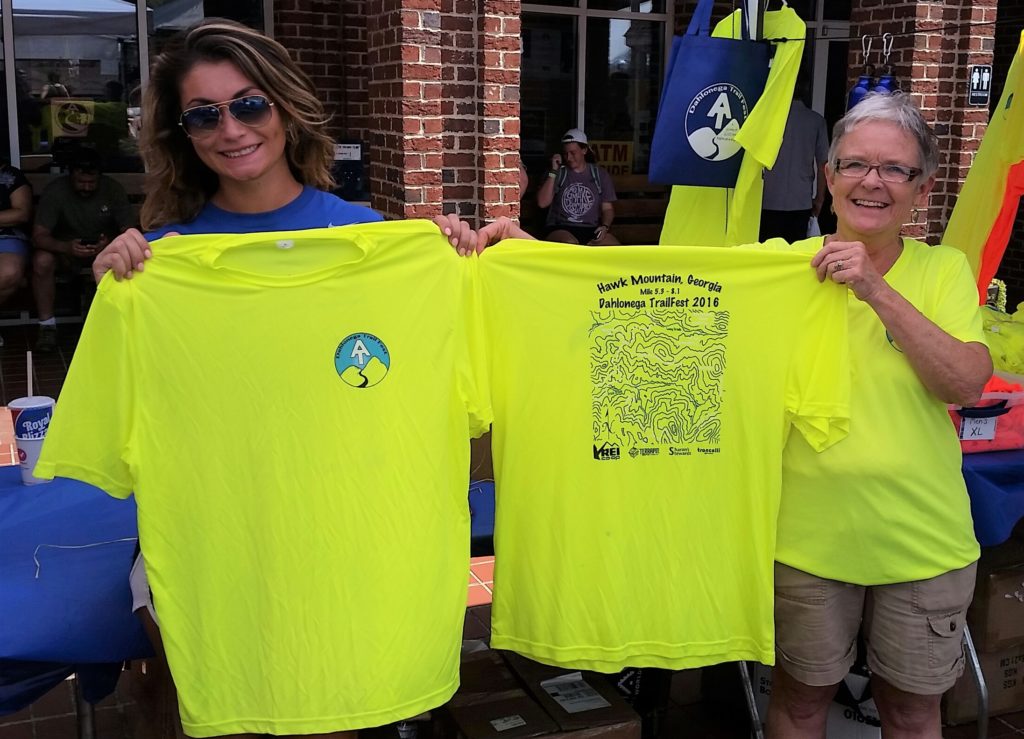 Organizers of Dahlonega Trail Fest 2019 are willing to accept valiant efforts from exceptional and generic volunteers. Nice, huh?
Oh. Depending on how many hours you give to the cause of sharing the benefits of hiking, you will earn free food … and maybe even a beverage or a snazzy T-shirt!
Click Here to Volunteer for Dahlonega Trail Fest 2019
Please Note: The T-shirts are amazing. Day-glow colors so you'll be found no matter how far you go off the Trail to "see a man about a horse." The maps on the back are perfect, in case you lose the Trail and you trust a friend to tell you which way to go. They're also sweat wicking. (The T-shirts, not your friends.) These dandy garments are so nice that I actually gave two away to loved ones who hike the AT, even though I am insanely cheap and I loved the T-shirts only slightly less than my family/friends (who happily accepted them before I could change my mind). Thank you.
Connecting with this year's event isn't easy. There are a bunch of Facebook links to previous year's festivals, but I didn't find one exclusively for 2019. This page from 2018 might be updated. I'll post it, just in case.
Otherwise … try hitting DahlonegaTrailFest.org to access the latest information. That link doesn't have the http security protocol, however, it worked when I tried it.
The best way to find out what's happening at Dahlonega Trail Fest 2019 is to attend the festivities from Friday night through the weekend of September 6, 2019. Please pitch in, too, if you're able. That will help guarantee that this joyous congregation will be around in 2020.
See you there!