In less time than it took space aliens to build Egypt's pyramids, the Golden Corral Restaurant in Gainesville is open (finally).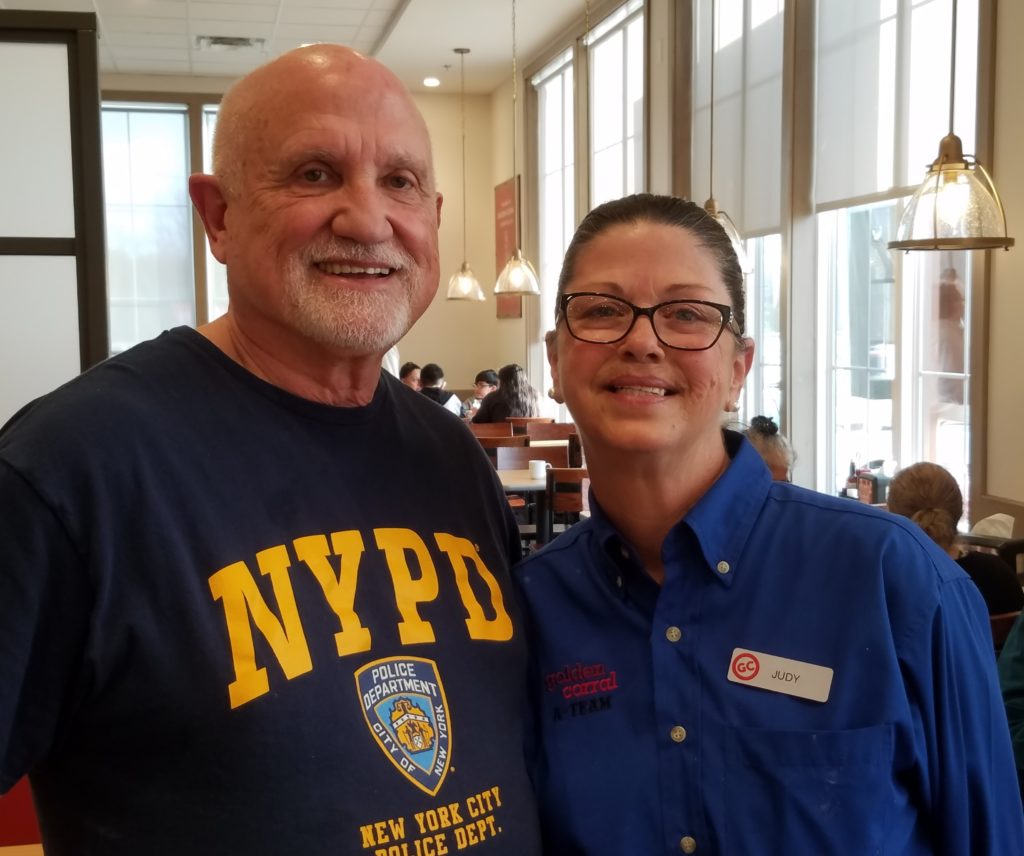 My famous friend, Bob Foster, and I spent $33.98 to dine there after 5 PM on Tuesday, March 12, 2019, the second day that Golden Corral was open.
You probably know Bob from being a health coach and social butterfly at the YMCA roughly 3.14 miles north of town on Georgia 365 (aka Death Alley).
No, nobody recognized me — the famous travel writer and restaurant critic — but Bob was swamped by adoring fans, including Judy, our gracious server. Such is life. At least he paid the tip.
Please Note: In spite of being a legend in my own mind, Bob and I paid for our meals, stood in line (like The Little People), waited for a table and received the same exact treatment that you can expect. Except, of course, that you are probably nowhere near as recognizable or popular as Bob. Thankfully, Bob left a most generous tip for Judy, who then agreed to let us take her picture.
If you have lived near Gainesville for long, you will recognize the address of the new Golden Corral as "where Po Folks used to be." For noobs, you'll have to plot a course to 1450 Browns Bridge Road in zip code 30501. Their phone number is 678-862-0648.
Golden Corral serves "buffet food." That means it isn't the finest stuff available at any price. It means darn good food at a decent price and you can have all you want. In my world, that's fine dining.
Put something on your plate that doesn't please your palate? Stop and select something else. It's that easy. After your meal, you can browse or graze around the many desserts that come with your meal at no extra charge.
The new Golden Corral is nestled among old favorites in Gainesville at the intersection of Browns Bridge Road and Pearl Nix Parkway. To describe that differently, it's across the street from Longstreet Cafe, Zaxby's and Burger King. It's in the same plaza as Stevie B's Pizza and the fabulous Hibachi Buffet, which is next door to Captain D's. Across the main road is Pizza Hut and Taco Bell. Up or down the road you'll find Red Lobster, Long Horn Steakhouse, KFC and an El Sombrero.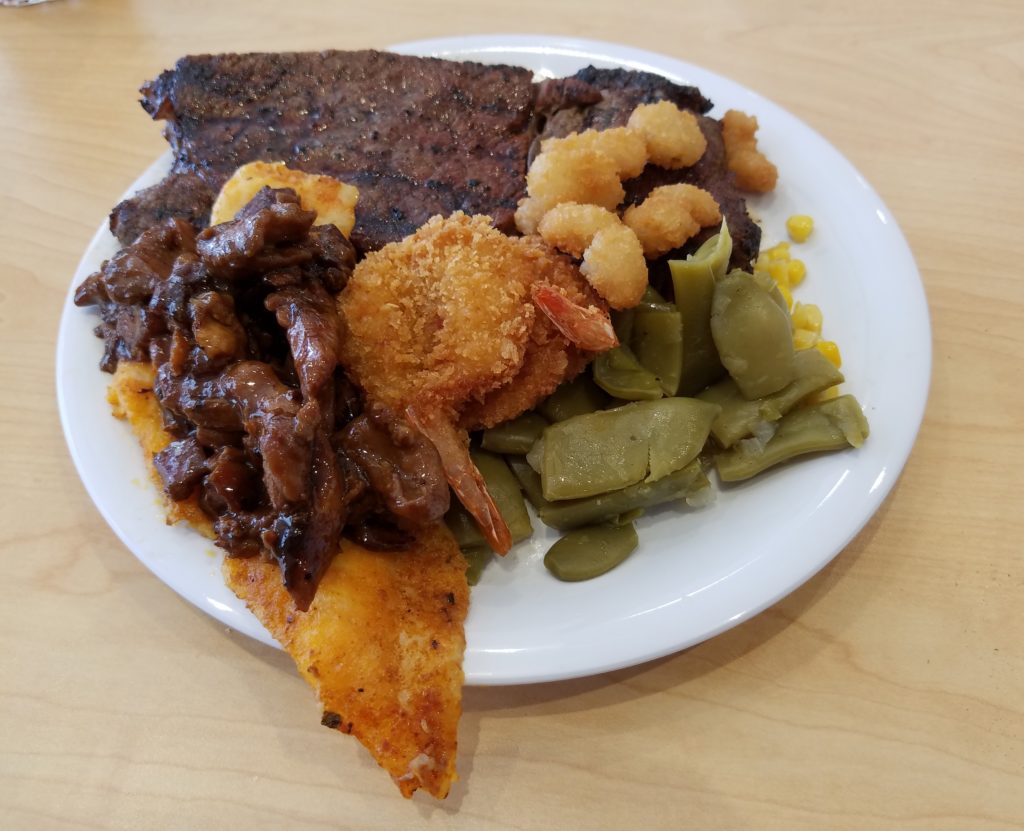 Is Golden Corral better than them all? Not really. But … you can get just about any kind of food at Golden Corral that you can find elsewhere.
That's the deal: plenty of good food at a decent price.
And, you're not forced to sit in an orange booth (because the color orange is supposed to induce hunger) that is designed to be too uncomfortable to sit too long after you eat.
If I haven't told you, I've been on a diet this year. Dropped 40-pounds. Going out to dinner was an unusual treat for me. (It was also an unusual treat for Bob because I paid for his meal.)
I was able not to bust my low-carb diet and had two helpings of steak to make it all worthwhile.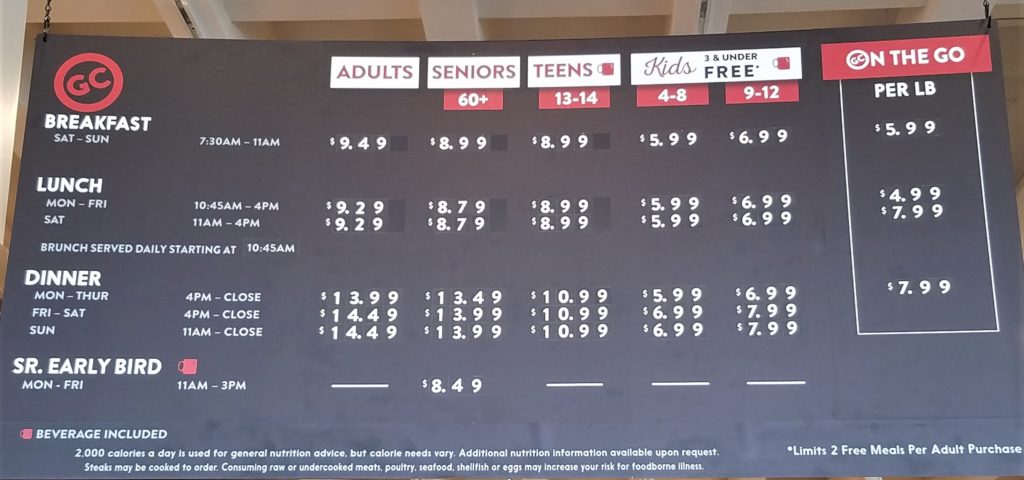 Prices vary, depending on the day and time of your meal. The best buffet for your buck is at lunch, in my opinion. It's a nice treat and a pleasant place for a meal.
Will this be the only restaurant near Lake Lanier that you'll ever visit again? I hope not. Breakfast clubs at Longstreets, zippy late night snacks at Taco Bell, fancy dinners at Red Lobster, celebrations at Long Horn's are too good to pass up — along with Chinese anytime at Hibachi Buffet.
For just any kind of food you would like any day of the week, give the Golden Corral in Gainesville a try.