The Twisted Oar on Lake Lanier isn't the mythical pot of gold at the end of the rainbow, but it's almost as hard to find.
My adventure to the Twisted Oar began on the first sunny Sunday afternoon since the Wet Ages began in Hall County in February 2019. After what seemed to be 40 days and 40 nights of pouring rain, steady rain, showers, downpours, drizzle and rainy rain, I had to get out of the house. I was hungry, had a few bucks to spend and time to spare outdoors.
Everyone knows that the Twisted Oar is in Harbor Marina — the last right turn before you enter The Land of Lanier Islands. The official address (although it won't help you find the restaurant) is 6900 Lanier Islands Parkway, Buford, Georgia, 30518. There's a gatehouse at the entrance where someone with an intimidating clipboard will kindly ask you why you're there.
I mumbled something about lunch at Twisted Oar and was gleefully waved along. As I began to move, I quickly asked where I'd find the eatery. The guard said something that sounded like, "Take a left at the first right. If you see the seventh white boat by where the oak tree used to be, you've gone too far." My fault. I should have said I didn't understand, but I was too hungry.
Roads through Holiday Marina were all above water, even though Lake Lanier was at its third highest level ever. Yes, I got lost. Yes, I drove to several dead ends. No, I didn't give up. Because … I love an adventure.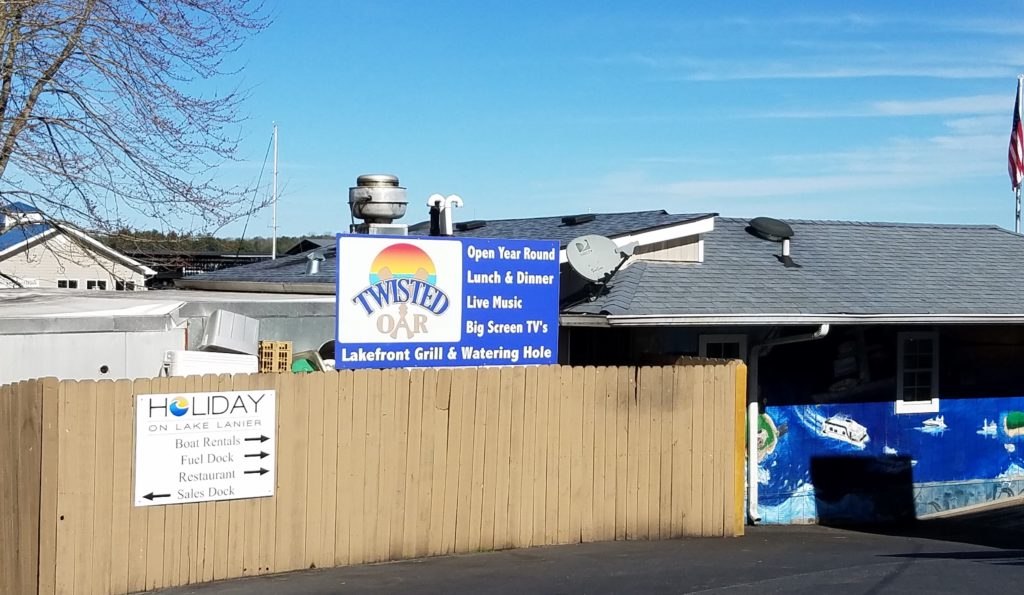 I drove back to the Big Main Building and, by faith, kept looking for something like an outdoor restaurant. Bang! There it was. Almost.
There were no parking places nearby, however, there were plenty a short walk away. By this point, I was so hungry that I would have eaten tofu. Almost.
There were obvious signs of flooding. I didn't see this "lakeside grill and watering hole" at its finest. No matter. Not like I was at my finest either.
I walked the planks to the door — with no idea what or who I'd find. Bunches of smiling, friendly folks were inside, as if they were happy to be alive and to be there with other friendly folks. I knew I'd like it.
Booths at the Twisted Oar on Lake Lanier
Photo by Robert Sutherland
Brace yourself.
Twisted Oar isn't fancy. Not that I'd worry about getting rolled for your French fries, mind you.
Totally not scary. Totally not where snooty would rock the house.
Booths by TV sets inside were empty.
The drunkless bar was hopping. The main dining area had room to spare, but you could tell it's the kind of place that is packed on weekends.
Father & Son Duo Mike & Isaac at Twisted Oar ~ Photo by Robert Sutherland
I sat outside and asked a couple of guys if they minded sharing their sunny table with a stranger.
That was the end of being strangers. Mike and Isaac made my meal even sunnier.
Look on the left side of that shot. See the gas pumps? That's by the Ship Store at Holiday Marina.
Most diners come by boat, not by car. That keeps out the terra-firma riff-raff and provides sanctuary for the Boat People who come to relax at the Twisted Oar. Besides, there would not be enough room for everyone if strangers could actually find the place.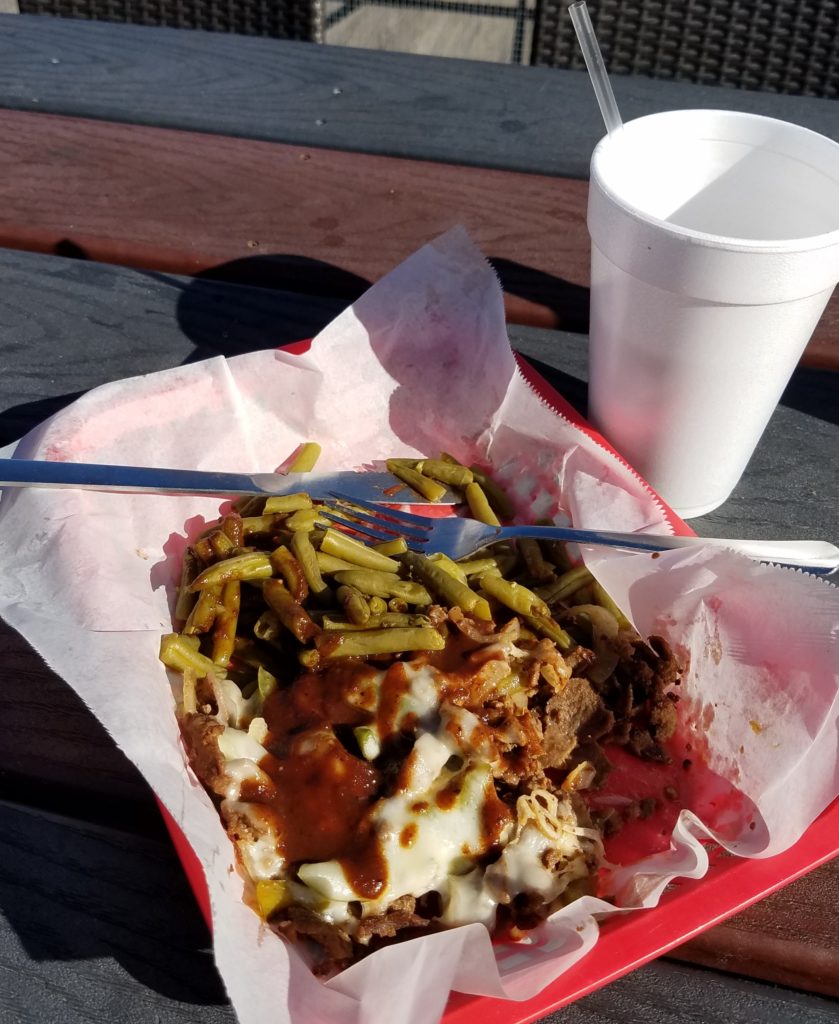 Summer took my order and served me on the deck. Sadly, I am now on a diabetic diet that eliminates just about all my favorite food.
She sweetly allowed me to order a Philly Cheese Steak without bread or fries, just green beans as a side. It was delicious.
As usual, nobody caught on to the fact that I am incredibly famous. I paid full price for my meal and left a tip large enough that my daughters (who were servers) would almost be proud of me.
Looking for an adventure? May I please recommend a visit to the Twisted Oar somewhere within Holiday Marina on Lake Lanier. Cometh by boat, if you can. It's a few steps away from the gas dock. Or drive and see the sights before dinner at Twisted Oar — right on beautiful Lake Lanier.