It's easier to understand how low water levels can close boat ramps on Lake Lanier or elsewhere. High water can close ramps too.
If the water doesn't even touch the bottom of the ramps, you can't launch your boat or get it back on a trailer after a long day of trying to catch fish.
Boat Ramps Closed at Old Federal Park 2-24-19 ~ Photo by Robert Sutherland
When you cannot even guess where the boat ramps are — as in this photograph taken on February 24, 2019 at Old Federal Park on Lake Lanier — it's time for the US Army Corps of Engineers (USACE) to shut them down.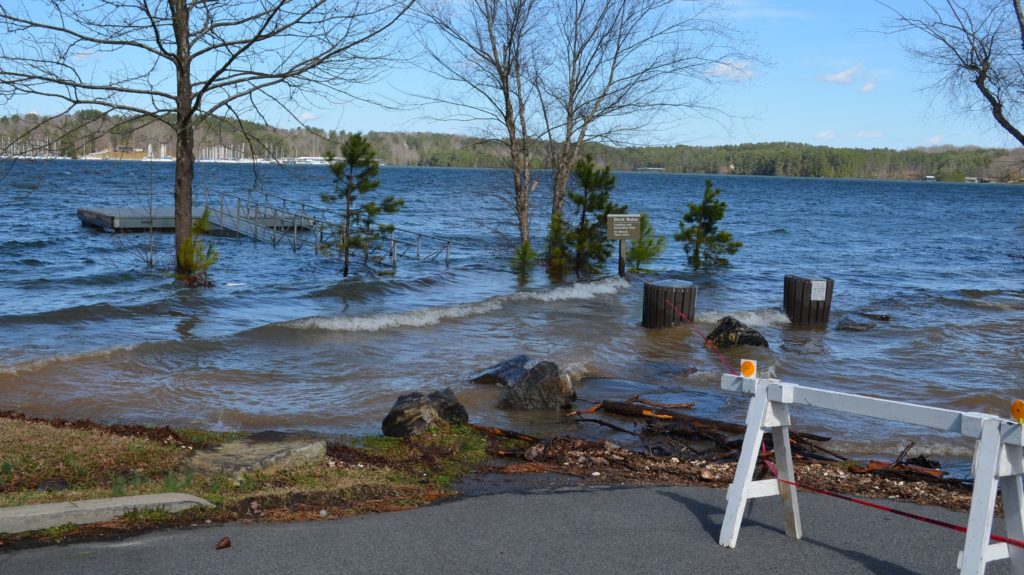 When whitecaps prevent you from walking to a boat dock on Lake Lanier, it's also time to close the boat ramp.
The official water level is measured at Lanier's Buford Dam at midnight each morning. On Monday, February 25, 2019, the lake hit 1076.1 feet above sea level — six feet over what's considered full for this time of year.
On February 23rd, the USACE listed Lake Lanier's highest-ever levels.
1077.15 – Apr. 14th, 1964
1076.20 – Apr. 5th, 1977
1076.1 – February 25, 2019
1076.05 – Mar. 30th, 1980
1075.99 – Apr. 15th, 1979
1075.75 – Apr. 1st, 1976
1075.43 – Dec. 31st, 2015
You don't need a to be a rocket scientist to see that today's depth is within an inch or so of second-place ever. That's pretty cool — unless your dock is submerged or your basement is flooded from incessant rains.
After three days of sunshine (that big yellow thing in the sky) rain showers return to Rainsville later in the week. Sorry.