Historians say the first Thanksgiving celebration was held in 1621, after 53 of the pilgrims who endured a trip to the New World on the Mayflower survived their first winter and gave thanks for their survival.  You and I are much more fortunate.  We don't have to risk a watery death in a rickety boat ride across the Atlantic and spend a winter outdoors to celebrate with the Thanksgiving Feast at Lanier Islands!
If you call soon for reservations, you can bring 53 of the pilgrims in your own family to the Thanksgiving Feast at Lanier Islands.  No, it's not cheap.  It's only fantastic — with more delectable food than William Bradford could have imagined way back when.
Here's a link to the entire menu is below, but let me give you a bit of a hint:
Herb Roasted Turkey
Slow Roasted Angus Prime Rib
Half-Shell Oysters and
all the side dishes and desserts you'd expect
and (ready?) Nutella and Banana Shooters!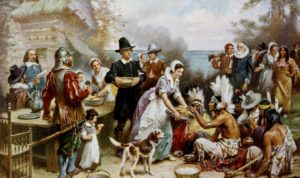 You have other options, obviously, for Thanksgiving.  You could drive to see relatives in one of those states where there are always wintry blizzards that trap motorists on frigid highways and close down airports, stranding travelers in worse conditions than the pilgrims endured.
Maybe allow one of your crazy uncles a whack at deep-frying your turkey!  What could possibly go wrong?
Click Here for Deep Fried Turkey Explosion Videos
The best way to spend Thanksgiving … and your hard-earned money?
The Thanksgiving Feast at Lanier Islands on Thursday, November 22, 2018 from 11 AM until 5 PM!