Fall in Georgia begins on Saturday, September 22, 2018, following a hot, humid summer.  That's okay.  Autumn is the best time to camp on Lake Lanier!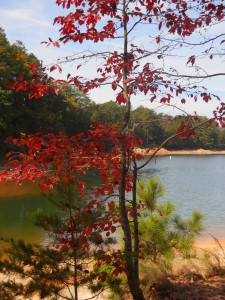 Unless you're "camping" in an air-conditioned motor home larger than most big-city apartments, spending a few nights at one of the fabulous parks on Lake Lanier can get a little warm.
July and August can be brutally hot outdoors.  We go camping anyway … because campers camp.
The season is coming to a close at the US Army Corps of Engineers (USACE) campgrounds on Lanier.  There's still time to get out, cook out, sleep out and camp out on America's Greatest Lake.
Duckett Mill, Toto Creek and Van Pugh South campgrounds are scheduled to close for the season on Sunday, September 16, 2018.
Bald Ridge and Old Federal parks will wind up the 2018 season on Sunday, October 21st.
Bolding Mill and Sawnee campgrounds will lock their gates for the last time this year on Friday, November 30th, according to information posted on the USACE website for Lake Lanier.
Warm days, pleasant neighbors, cool nights and the beauty of Lake Lanier are a few of the reasons why autumn is the best time to camp on Lake Lanier!