After church one beautiful Sunday afternoon, I rode my motorcycle toward the North Georgia "mountains."  As I approached Cleveland on Route 129 by the car dealerships, I realized that I forgot to eat lunch.  Just about then, I saw Rib Country BBQ.  It was a sign.
The gravel parking lot added a special thrill to parking my bike.  The outside picnic tables looked inviting, but I chose to eat inside.  The brightness and cleanliness of the restaurant was complemented by the friendliness of the staff.  I chose … wisely.
Continued Below
There are six Rib Country BBQ restaurants operated by the same folks.  They're in Blairsville, Cleveland, Helen and Hiawassee, Georgia; with two locations in North Carolina: Hayesville and Murphy.
Plenty of places to eat around our beloved hills and valleys, without getting too big or like a cookie-cutter franchise.
As usual, I didn't know what to order.  As usual, I ordered the BBQ Pulled Pork Plate.  In addition to the French fries and cole slaw, I ordered a helping of their baked beans too.  Just to taste it all.
Please Note:  As usual, I arrived unannounced and knew no one there.  I paid for my meal and left a healthy tip.  I wasn't paid or given anything in return for this review.  It's a lousy way to earn a living, but it's a good way to provide an honest opinion of this and other restaurants.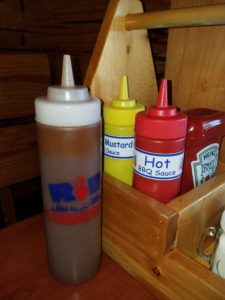 While waiting for my food, I walked around and took a few pictures for you.  Rib Country is a great place to have a meal — alone or with 50 of your best friends.  It was "just right."
Not sure how to tell you this … but … the men's room was so clean that I didn't want to use it.
After I walked in, it looked like a spotless movie set.  I thought about taking a picture but how weird would that be?
We've all been in eateries where you can't hover high enough to feel safe.  This is the opposite.  Cleanest restroom EVER.
My food arrived before I realized how hungry I had become.  Sipped my giant cup of Diet Coke and reached for the BBQ sauces.  Settled for their Sweet & Mild (no, not named after me).
Yes, I tried a dab of the hot sauce; thankfully, it wasn't "burn your mouth" hot.  Insanely spicy food is too insanely hot for me, personally.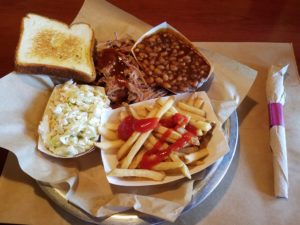 No, I didn't try their mustard sauce.  Yes, it's popular in the Carolinas (where I was born and where most of my family still lives).  I cannot bring myself to put it on good BBQ.  Try it yourself.  You might love it.
My meal at Rib Country BBQ looked scrumptious.
The fries were a bit too industrial for me, personally.  Once you have terrific, hand-cut, big fries, it's hard to go back to skinny mushy fries.  Again, you might love them.  They're just too common for a place of such uncommon quality, in my opinion.
The slaw was terrific.  (My mouth is watering as I write this.)  They make it fresh, on-site.  The vinegar and mayonnaise base was tangy and "just right."  Big points for the cole slaw!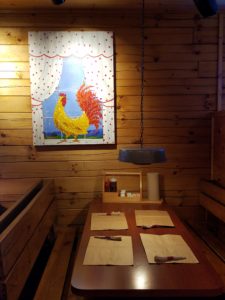 You cannot see all the BBQ pork that I was served.  There was plenty for this hungry guy.  I probably should have ordered another couple of slices of garlic bread to make my meal last longer.
The pulled pork didn't require sauce.  It was flavorful, but I like sauce too.  The meat is the best blend of juicy and smoky, and basted with their special seasonings.
It's easy to taste why Rib Country has expanded to six locations.  Try it for yourself and you'll see.   They're open seven days a week from 11 AM until they close.
They have a 100% guarantee on the quality food they serve.  If you have an issue, they'll try to work it out.  If you're still not happy, they'll refund the price of your meal.  That's how they value their customers.
That, friends, brings us to the beans.  I didn't like them.  No, I didn't whine or put up a fuss.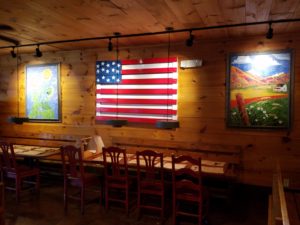 The beans were too sweet for me, personally.  They have a robust brown sugar and molasses flavor.  I chose not to finish my helping.  They would have given me a different side order, but everything else "just right," so I didn't want to complain.
I profoundly respect Rib Country BBQ for serving beans that I didn't like.  Why?  I hate bland food.  Why pay for a meal if it tastes like cardboard with ketchup on top?
Too often, restaurants fear serving dishes that "somebody" might not like, so they serve tasteless goop that won't offend anyone.
Rib Country serves beans that they believe are the best.  I commend them for that.  They don't "dumb-down" their brisket, ribs, smoked turkey, BBQ beef or pork to try to please everyone.
They just want to cook and serve what they believe is the best food around.  It's a good thing they have six restaurants to feed everyone who loves their BBQ … and their brown sugar beans.
Rib Country BBQ earns my highest possible rating:  I can't wait to go back for more.