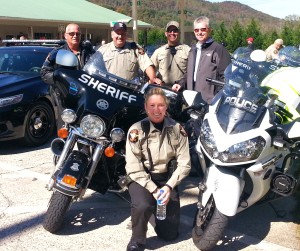 We are very grateful for the months of effort that went into the charity motorcycle ride held on Saturday, October 26, 2013, by the team led by Hall County Sheriff Gerald Couch on behalf of the Georgia Sheriff's Youth Homes.
Proceeds from the charity ride went toward funding the Georgia Sheriff's Youth Homes — places where troubled kids can find a home … and a future.
No one could have predicted that the ride would take place on the coldest morning of the year.
The "Thunder in the Mountains" organizers were expecting 100 or more bikes, but only 48 bikes made the trip.  That means the Georgia Sheriff's Youth Homes received far less than we all hoped they would.
My daughter, Esther Joy Sutherland Barton, and I took part for three good reasons: 1) to help fund the Georgia Sheriff's Homes; 2) because we love to ride in the beautiful mountains of North Georgia; and, 3) that's what she wanted for her birthday.
If it was too cold for you to ride — and we all understand — you can still pop a donation to a worthy cause and you don't even have to freeze to make a contribution.
Donate to Georgia Sheriff's Youth Homes
You may send your large or small check made out to Georgia Sheriff's Youth Homes to:
Community Service Clerk Tamara Smith
Hall County Sheriff's Office
610 Main Street
Gainesville, GA  30501
For more information, you may call Tamara Smith at 770-718-3281.
If you ride a motorcycle but didn't make it to this event, how about sending them $15 to cover the gas you didn't use or $40 for the cost of gas and registration.  That's not a lot to ask, right?
Sponsors of the Hall County Sheriff's Thunder in the Mountains Ride
Please express your gratitude for the sponsors:
Starbucks Coffee (Gainesville)
Stan's Biscuits on Cleveland Highway in Gainesville
Longstreet Café on Pearl Nix Parkway in Gainesville.
These fine folks also made the ride a success:
A&S Commissary Services and
The A.D.V.A.N.C.E. Program pitched in to serve up a  filling lunch.
The Girl Scouts provided dessert, by making brownies and cookies for the ride home.
See what you missed by clicking on the pictures below.
Click Here for Thunder in the Mountains Charity Motorcycle Ride