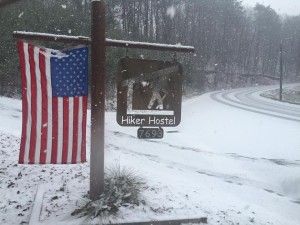 On Wednesday, bad weather closed roads in North Georgia.
As we reported previously, Gov. Nathan Deal issued a state of emergency for 15 counties under a winter storm warning — including Dade, Walker, Catoosa, Chatooga, Whitfield, Murray, Gordon, Fannin, Gilmer, Union, Towns, Pickens, Dawson, Lumpkin and White Counties — on Tuesday, January 19, 2016.
Since then, snowfall and slippery conditions have made driving in the northern counties of the state treacherous.
Georgia DOT crews are treating several state routes in the region with a salt and gravel mixture.  Crews will continue to monitor road conditions in Northeast Georgia and respond as needed.
The weather has also closed some roads in the region "until the winter event is over."
Closed Roads in North Georgia
SR 384/ Richard B. Russell Scenic Highway in Blairsville (Union County)
SR 180 SPUR in Blairsville (Union County)
Roads Treated with Salt and Gravel
SR 183 in Dawson County
SR 129 in White County
SR 17 in Habersham and Union counties
SR 180 Union and White counties
SR 60 Union and White counties
SR 2 in Rabun, Union, and Townes County