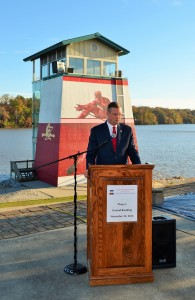 Congressman Doug Collins, chair of the U.S. Army Corps of Engineers (USACE) Caucus, objected to the Corps' recent decision to ban irrigation using water withdrawn from Corps lakes, in a statement released on 1-13-16.
The Corps claims the changes simply bring shoreline management regulations into line with a federal law that was written back in the 1940's. Why then, did they allow property owners along these lakes to purchase permits, pumps, and other infrastructure for so many years? This sudden shift in enforcement of the rules is highly concerning, and puts a large burden on property owners who have relied on this system for years.  I would like to know why the Corps did not hold a public comment period, or seek ways to engage with the public to rectify the situation.
On January 20th, news outlets quoted Congressman Collins as saying the Corps reversed its policy on banning withdrawal of water from USACE lakes for irrigation.
We sought clarification from USACE's Deputy Public Affairs Officer Lisa Parker.  The Corps' policy has been temporarily suspended, but has not yet been reversed.
"Following a meeting with concerned adjacent landowners, we are suspending implementation of that portion of the new shoreline management policy that prohibits minor water withdrawals at lakes across the South Atlantic Division while we further review the policy and its implications for adjacent shoreline residents.  The Districts will suspend the implementation of the policy effective immediately until the review is complete and further guidance is issued."
We will keep you posted, as more facts become available.