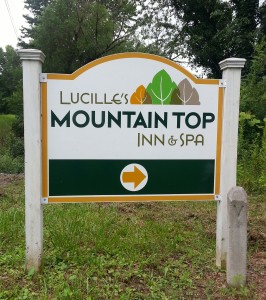 Lucille's Mountain Top Inn & Spa in Sautee Nacoochee, Georgia, is full of surprises.
Lucille's was recently named one of the most luxurious inns in the United States of America by BedAndBreakfast.com.  Spend one night there and you'll agree that esteemed honor is no surprise at all.
After 25 years of meandering in the "mountains" of North Georgia, I thought I had been up, down and around every road, valley and hilltop via car, Jeep or motorcycle.  I was surprised to find Rabun Road and the truly world-class bed & breakfast inn atop a nearby hill.
The views from Lucille's Mountain Top Inn & Spa are nothing less than stunning.  I was surprised that such a spot existed in the Helen, Georgia, region.  Before I unloaded my bags I was on the veranda inhaling mountain air and reveling in the spectacular panoramic view.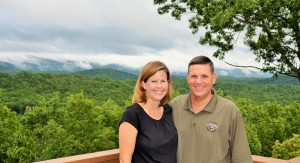 Darrell and Peggy Darnbush of Murfreesboro, Tennessee, were at Lucille's for the first time too, celebrating their 20th wedding anniversary.
Peggy researched luxury bed and breakfast inns that could rival the mountain top experience of this milestone in their marriage.  They chose Lucille's Mountain Top Inn & Spa.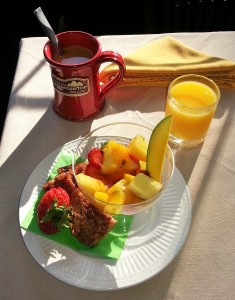 When I asked what they loved most about it, I was surprised to hear Peggy say, "The breakfast!"
Surprising, until you share that delight at Lucille's.  Two courses, with every manner of fruit, juice, type of coffee and/or tea … and the heavenly view.
I'm not sure what they called the second course of my meal, but I called it Delicious Quiche in a Fort Made of Bacon.  Wow.
You won't catch me photographing my breakfast at Waffle House, but at Lucille's?  Standard operating procedure.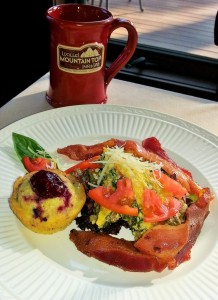 Lucille's Mountain Top Inn & Spa was deemed a Top 10 Luxurious Inn from more than 8,000 other properties around America.
"These award-winning inns, including Lucille's Mountain Top Inn & Spa, really showcase bed and breakfasts and inns that often become a destination to discover, and not just a place to stay," says Matt Laessig, general manager of BedandBreakfast.com.
Matt also said, "Travelers select small inns because they enjoy staying in a one-of-a-kind place that offers not only character, special amenities and unmatched hospitality, but also enables them to discover new experiences."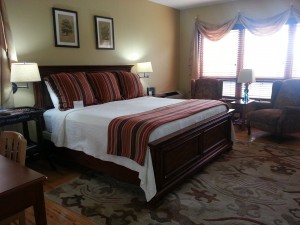 Each room at Lucille's is uniquely decorated and each one is nicer than all the rest.
The view from every room at the Inn delivers surprisingly amazing vistas of the North Georgia mountains.  There is nowhere else like Lucille's.
"We are very honored to be chosen for the Top 10 Luxurious Inns award, and we are thrilled that our hard work focused on food quality, guest comfort and service has set us apart," says Jerry Morris, Lucille's Mountain Top Inn & Spa's innkeeper and owner.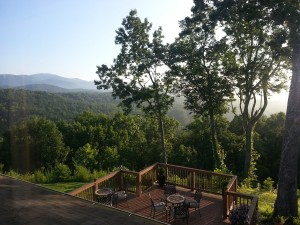 Lucille's Mountain Top Inn & Spa graces a mountaintop overlooking the Blue Ridge Mountains and the picturesque Sautee Valley, just north of Atlanta in the heart of Georgia's wine country.
The eleven exquisite guestrooms have a king- or queen-sized bed, private ensuite bathrooms outfitted with plush Turkish cotton towels, and fancy plush robes fit for kings and queens.  A few guestrooms have fireplaces, whirlpool bathtubs, walk-in showers with dual shower heads and even private outdoor showers.
The Spa at Lucille's offers guests and local visitors the finest in day spa services, including a variety of massage, skin care and body treatments.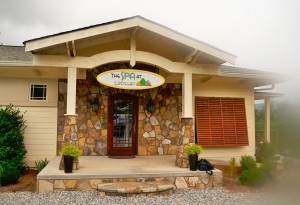 Lucille's offers several room and spa packages for those travelers looking for a relaxing spa escape, vineyard and wine tasting experiences and spectacular mountain views.
Gentlemen pondering ways to express their love and affection for that one special lady in their lives would be wise to give her a luxurious day at the spa.
That will also provide a time for gentlemen to rest before their lady returns home to express her appreciation.
Come for the views, the breakfasts or to relax atop a mountain.
Don't wait for your 20th wedding anniversary to treat yourself to one of America's most luxurious B&Bs: Lucille's Mountain Top Inn & Spa.