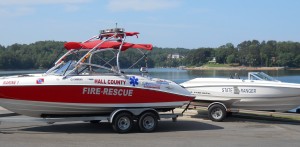 Communications/Outreach Specialist David Allen of Georgia's Department of Natural Resources informed lakelanier.com there was a boating incident on Lake Lanier at about 4 PM on Sunday, July 21, 2013.
A 16-year-old girl received a laceration 16 inches long on her left thigh as she was climbing aboard from the rear section of the boat.
The boat's engine was running but was reportedly in neutral.
Emergency responders from the Hall County Fire Department transported the young lady from East Bank Park to Gwinnett Medical Center.
Additional details were not available.
We are thankful for all those who responded quickly and ably to help this girl.