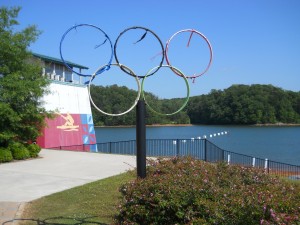 You're invited to row, row, row your boat to the 1996 Olympic Rowing Venue to take part in the 2013 Lanier Sprints Regatta.
Your pitiful rowboat won't have any chance of winning, but you're invited anyway.
Rowing is an elegant sport performed by non-whining athletes who enjoy the thrill of competition and, evidently, the thrill of wearing latex.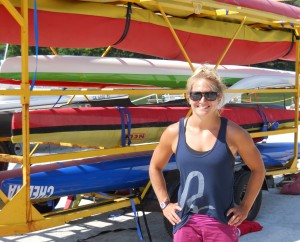 Races cannot be halted, as in lesser sports, by saying someone kicked you or by mysteriously falling down, pretending to writhe in pain — unless accompanied by protruding bones or profuse bleeding.
You attempt to get in your boat — without swamping your teammates — and you row as hard as you can until you cannot row anymore.  At that time, a nasty person (a.k.a. "coxswain") screams at you to row faster than before or else you will be fed to the voracious and toothy garfish that are thought to survive quite well thank you by feeding on jettisoned underachieving rowers.
I might, however, be misinformed.
The fun begins at 8 AM on Sunday, March 24, 2013, and races will be paddled until 3 PM or so.
A good time will be had by all.
Happy Paddling!
Contact Information
E-mail: [email protected]
Phone: 770-287-0077