The one thing that Lake Lanier needs — besides more water — is more lakeside restaurants.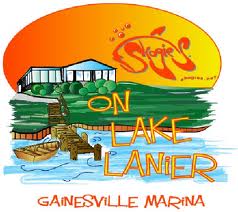 Skogies Lakeside Restaurant on Lake Lanier gets my vote for the best waterfront eatery on the north end of the lake … maybe the entire lake.
My visit was delightful.
I know what you're thinking: "Sure!  You're a world-famous writer!  Of course they treated YOU well … but what about the rest of us 'normal' people?"
Just to be fair, I concealed my identity and went in just as if I weren't amazingly special — although it was difficult.
I paid the bill and left a tip before I revealed my identity.
(OK.  So, revealing my true identity didn't go all that well.  All my bruised ego can remember was "Who?  Who are you?  You work where?  What?  SECURITY!!!")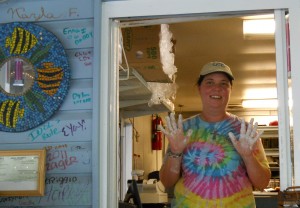 When I arrived, I was met by a friendly lady named Heather (Jonovitch).   She made me feel welcome and appreciated.   That was nice.   Turns out, she and her husband are the hands-on owners.
I had no idea that Skogies had servers who would actually bring me a menu and serve me at one of their spacious outdoor tables, on their screened-in porch or in their air-conditioned dining room.  I chose to eat outside on a sunny breezy afternoon.
How fancy is Skogies?  They let you use real metal forks and knives.  Seriously.  But don't let it go to your head, you still get your food in a basket.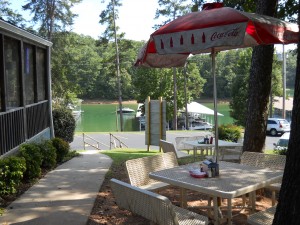 My guess is a snooty food freak would gag at eating outdoors in the general vicinity of bugs, wind and uncarpeted floors.  To me it was like having a catered picnic.
My meal — a dandy hunk of fried fish with tangy Skogies Sauce, fries that somebody actually put some thought into, and slaw — was delicious.  Rebekah, my server, kept the Diet Coke flowing and asked me a bazillion times if everything was OK.  That was nice.
They even do breakfast.  In fact, they claim to have the best cathead biscuits on Lake Lanier and they have five different kinds of eggs Benedict.
If you enjoy good food that doesn't cost more than your first car, served by pleasant people in a beautiful spot on Lake Lanier, I think you'll enjoy Skogies too.
They're open to the public all year round.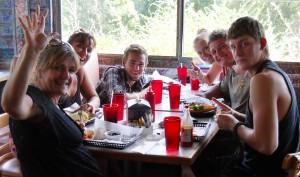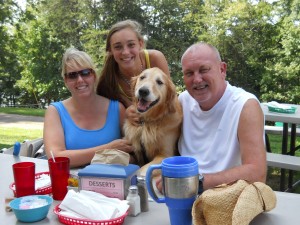 Details
Address:  At Gainesville Marina at 2151 Dawsonville Highway, Gainesville, GA  30506
Phone: 678-450-1310
Website: Skogies.net