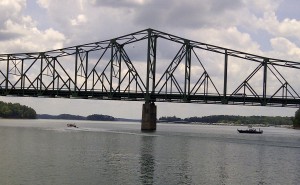 Weather forecasts for the Labor Day weekend on Lake Lanier call for a 30-40% chance of scattered thunderstorms with daily highs in the mid- to upper-80s.
Summer might be officially over, but that's perfect summer weather for many places.
Lake Lanier's water level was 1062.2, as of 7 AM, Friday, August 31, 2012 — roughly 9′ below full summer pool of 1071′ above sea level.
That's an inconvenience for keeping boat docks in deep enough water, but low water can be deadly for boating — especially over holiday weekends with amateurs driving boats and personal water craft.
The Georgia Department of Natural Resources' Wildlife Resources Division stresses the importance of safety for all boat drivers and passengers.
"Holiday weekends create a need for increased safety awareness from all boaters," says Lt. Col. Jeff Weaver. "As always, conservation rangers will strictly enforce all boating laws in an effort to keep everyone safe, but we also encourage people to pay extra attention to others on the water."
So far this year there have been 96 boating incidents, 9 boating incident-related fatalities and 33 total drownings on Georgia waters. Conservation rangers also have issued a total of 167 boating under the influence citations.
Prevent accidents and fatalities by reviewing the following safety tips:
Designate an operator. Do not drink and operate a boat.
Take a boating safety course. Visit www.goboatgeorgia.com for course listings.
Wear a life jacket. Children under 10 years of age are required by law to wear a life jacket while onboard a moving vessel, but it's recommended for EVERYONE to wear a life jacket.
Don't overload your boat with people or equipment. Check on the capacity plate for the maximum weight or the maximum number of people the boat can safely carry.
Use navigation lights at ALL times when on the water at night. Check lights before it gets dark.
Watch your speed. The 100-foot law applies to ALL size vessels and prohibits operation at speeds greater than idle speed within 100 feet of any vessel, unless overtaking or meeting another vessel in compliance with the rules of the road