Agencies Unite to Fight Boating Under the Influence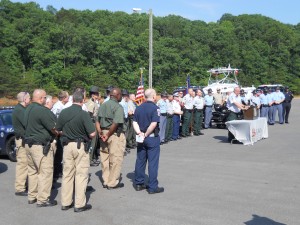 Law enforcement agencies from the Gwinnett County Police Department and Georgia's Department of Natural Resources' Wildlife Resources Division have agreed to a new level of teamwork and cooperation to maximize their resources and presence on Lake Lanier.
Their combined Boating Safety Initiative will allow law enforcement officers to work together to enforce safety concerns and to deal with the serious problem of Boating Under the Influence (BUI).
"With limited budgets and personnel numbers, our two agencies have created an innovative way to increase the number of patrol boats and law enforcement officers on Lake Lanier," explains Col. Eddie Henderson, Georgia DNR. "Police officers will be paired with rangers in DNR patrol boats. This will allow us to put more boats on the water year-round for high-traffic weekends, holidays and special events."
Currently, the DNR is able to staff two to three patrol boats with four to six rangers during high-traffic weekends. Starting Saturday, June 30, the lake will have up to five boats patrolling with 10 law enforcement professionals — in time for the Fourth of July holiday week.
"Lake Lanier draws 7.5 million visitors annually, including many from Gwinnett County," says Chief Charles Walter, Gwinnett County Police Department. "The Boating Safety Initiative will allow us to efficiently and effectively team up with the DNR to enforce safety and protect our citizens."
Gwinnett officers will undergo intensive training on Friday, June 29, conducted by the DNR Law Enforcement Section. This will training will include instruction in boating safety, vessel laws, boat inspections, water safety, BUI enforcement, boat registration, water rescue and boat safety checks.
Existing DNR patrol boats will be used for the initiative, saving Gwinnett County the expense of adding vessels.
"This partnership is one piece of the puzzle," says Col. Henderson. "Boating safety requires a multi-faceted approach. From the law enforcement side, we are pleased to have such strong partners with us."
Gwinnett's District 4 Commissioner John Heard said, "I commend the DNR and our Police Department for working together to patrol Lake Lanier. The increased presence of officers will remind residents to practice boating safety while enjoying the lake."