Peachtree Pointe at Lanier Islands on Lake Lanier is about a million times nicer than this time last year.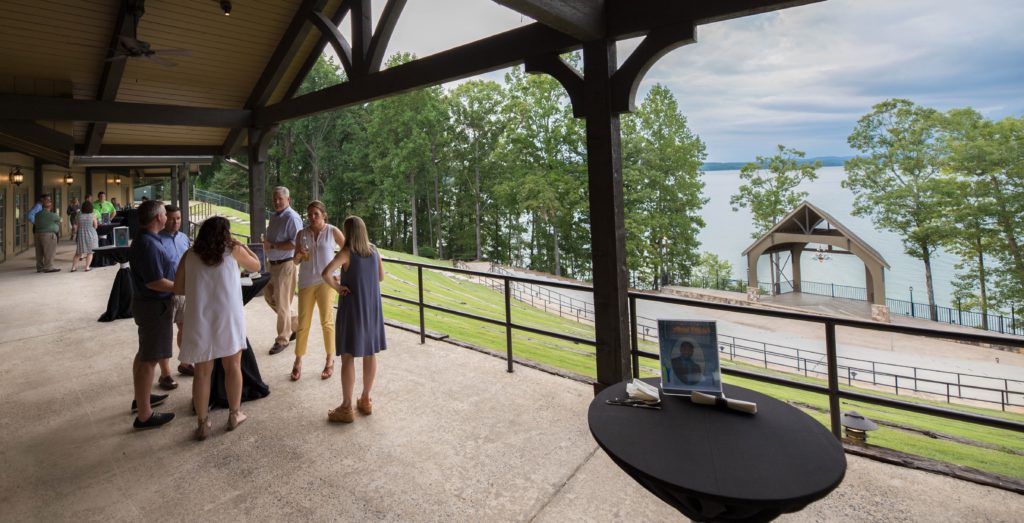 You'll find the best spot on the lake for your event at Peachtree Pointe.
Choose from outside accommodations right by the edge of the lake or inside their newly enclosed 8,500-square foot, climate-controlled, spiffy facility.
No, it's not just fancy because they added an "e" to the word point. They also spent more than a million bucks to perk up the 1,500-acre lakeside resort's uniquely scenic spot for any event you'd like to throw for a few hundred of your closest pals.
The spectacular lakeside outdoor amphitheater and pavilion at
Peachtree Pointe is spacious enough to give elbow room for 500 guests. Two commercial kitchens, elegantly finished restrooms and the cozy covered terrace takes Lanier Islands to new levels of function and beauty.
"As we continually endeavor to make our guest experience the best it can be, we've become very good at listening to the needs and wishes of our visitors," said Vice President of Hospitality at Lanier Islands Grier Todd. "We then take what we've learned and push it one step further in hopes of exceeding expectations. That is clearly illustrated at Peachtree Pointe – one of our most picturesque venues. Perched high on a hill overlooking the lake, the pavilion at Peachtree Pointe sets the tone for any large gathering. Add to that the large adjacent lakeside amphitheater and you have the makings of a truly unforgettable event. Groups can host a day of meetings indoors, and then conclude their event with musical entertainment under the stars. They bring a vision and we'll find a way to make it possible."
Lanier Islands gives you a choice of more than a dozen event venues, award-winning accommodations and amenities that include: an 18-hole golf course, the equestrian center, pleasant walking paths and the shore front entertainment complex: Margaritaville at Lanier Islands.
"Whereas our Grand Ballroom accommodates up to 700 guests, it's located inside Legacy Lodge – where many of our groups elect to stay overnight," added Todd. "Some groups simply want a change of scenery and the opportunity to enjoy all the things that make Lanier Islands so distinctive – chief among them, beautiful views of the lake. Peachtree Pointe offers them that and so much more. It is a perfect venue for large groups that want to combine the beauty of the outdoors with the practicality of an indoor space."
Now, event planners have both interior and exterior worlds to create the perfect awards banquet, company meeting, corporate retreat, family or class reunion, anniversary party or random shindig.
Peachtree Pointe at Lanier Islands