What could possibly be more fun than the carnival rides at Laurel Park? Well, unless you count the corn dogs and funnel cakes you can buy along the midway. Everything is free — unless you want to buy something!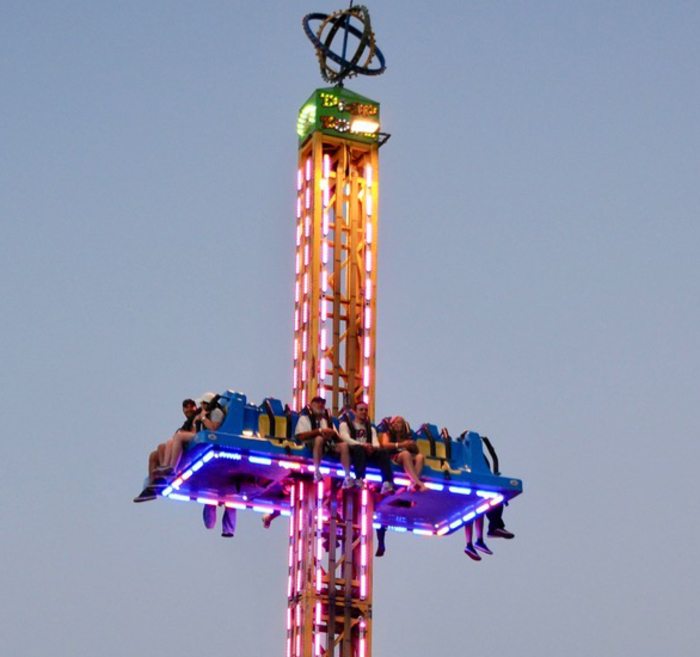 If you're like no one else on Earth, your life probably isn't scary enough. That's why demented engineers designed a "ride" they call the Drop Zone.
Sure, we could tell you how far it drops and how fast your life will flash before your eyes because you're SURE you're about to crash.
That would only make sane people think twice before hopping aboard. Regular riders wouldn't care if it descended into the center of the planet at Warp 6. The faster and the farther the better!
Jump on the carnival rides at Laurel Park at 3100 Old Cleveland Highway in Gainesville between Thursday, June 13 and Sunday, June 16th. There's no charge to just walk around and gawk.
Look on the bright side!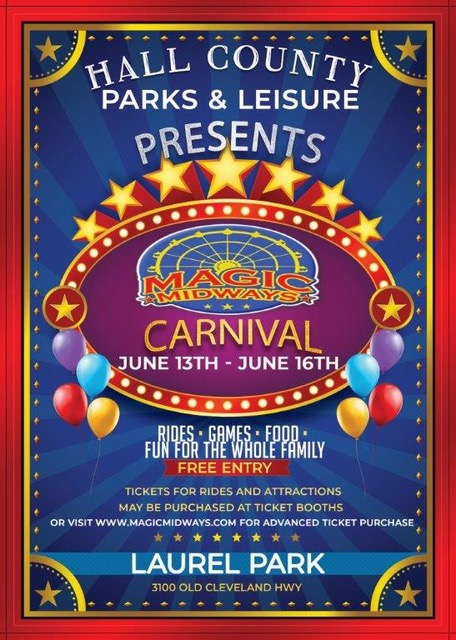 For less than it would cost to spend a few days in Paris or Honolulu, you can spend a few bucks and many hours on the beautiful shores of Lake Lanier playing games and tasting deliciously strange food.
Sure, the odd delicacies might shorten your life … but your final days will be a blast!
Heck, yeah!
Take your loved ones to the carnival! Give free death-defying trips on terrifying rides to your enemies.
As Magic Midways puts it, "Nothing is more exciting than winning that perfect stuffed animal at one of our games." Sure, dinner with Someone Special atop the Eiffel Tower comes close, but Magic Midways couldn't put that on the internet if it weren't true. Maybe.
Please Note: Sorry, kids may not run away and join the carnival without their parents' permission and a note from the pastor of their church. Thank you.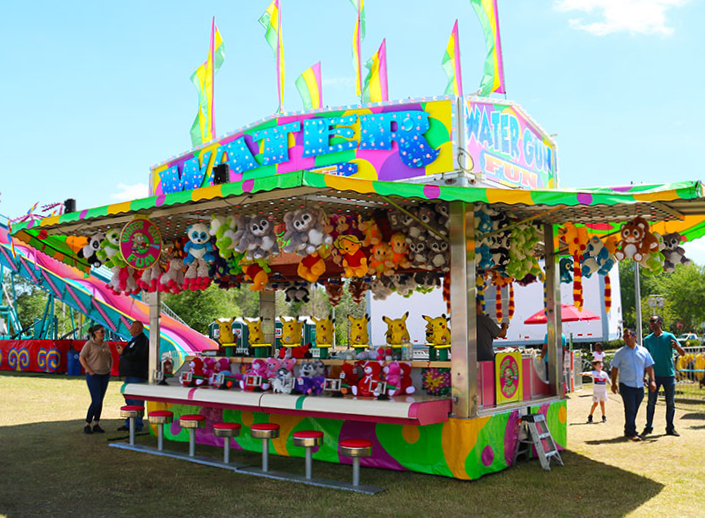 If you're not terribly adventurous and/or not clinically insane, take a shot at the Water Race.
Keep both feet on the ground and one on your wallet as you attempt to win a free stuffed animal!
If you don't win, have another funnel cake and forget your troubles.
Click HERE for Carnival Rides at Laurel Park June 13-16, 2019
Ticket Prices
Single Tickets for $1.50
20 Tickets for $25
Daily Unlimited Ride Wristband $25
Thursday night Special: Buddy Night – Buy One Unlimited Ride Wristband Get One Free
Presale Unlimited Ride Offers
$20 Unlimited rides when purchased by June 12 at Midnight!
Family 4 Pack Presale for $60!
Save $40 with the Hall County Summer Carnival 4 Pack!!
2 adult unlimited ride wristbands (over 18)
2 kids unlimited ride wristbands (under 18)
Purchase by June 12 at Midnight!
Hours of Operation
Thursday: 5pm – 10pm
Friday: 5pm – 11pm
Saturday: 1pm – 11pm
Sunday: 1pm – 10pm