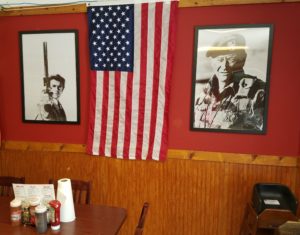 Had a memorable lunch with a friend in Winder, Georgia, in July of 2018.  We were tired of grazing at the local buffet and we weren't in the mood for Chinese.  That's when I remembered hearing about a place on West Athens Street, by the courthouse, they call Smokin' Po Boys BBQ.  We chose wisely.
Instead of fishing, target shooting or riding our motorcycles, we wanted to have a meal someplace where we could tell each other lies without spending $7 for a cup of coffee or $15 for Quiche whatever.
We sat at the table by the front window.
That way, people who drove by would know that handsome dudes eat at Smokin' Po Boys BBQ.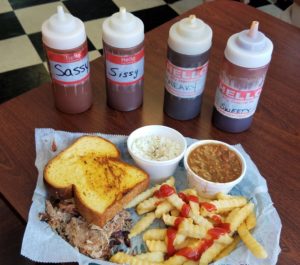 Samantha LaCrosse served us with grace, humor and all the patience required by two old goats.
Yes, they serve beer-battered onion rings (probably not as good as my mother made), cheddar-stuffed Jalapeno poppers and Brunswick stew with banana pudding for dessert.
We went there for pork plates and sides, and a couple of Diet Cokes.
Our meals were — ready? — FABULOUS.
The toughest part was choosing between the Sassy, Sissy, Sneaky and Sweety sauces.  I loved them all.
Looks like we'll have to go back at least three more times to choose a favorite sauce.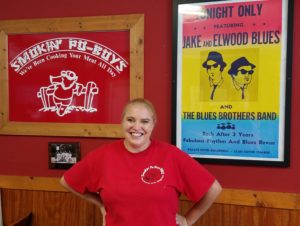 Then, we will have to go back to sample their chicken plates, "June's Chopped Chicken Sandwich" and their ribs!
Smokin' Po Boys BBQ serves a 2-1/2 pound full slab of ribs with two sides that they say is so "tender, tasty, sweet, smokey" that it's been compared to candy.  That will run you about $30 with a tip.  The same amount I paid a few weeks ago for a steak sandwich with a side order of flies.
Please Note:  Don Poole and I just showed up for lunch.  We paid for our meals and left tips.  As usual, no one asked for a review or paid us to do so, nor did anyone request a reprint of this story.  They simply deserve it.
Smokin' Po Boys BBQ in Winder isn't only for guys who love Dirty Harry, The Duke and Old Glory.  Actual, real-live families were there dining together.  Pretty ladies too.  Who wouldn't love it?
My mouth is watering as I write this review.  I have got to go back to Smokin' Po Boys BBQ soon!
Smokin' Po Boys BBQ on Facebook