The holidays are almost here!  It's just a matter of time until your loved ones return home (after being stranded at O'Hare or DFW for an hour or a day) and you hear those long forgotten words, "Who drank all the milk?"   That's when you'll decide to visit Lanier Islands this Christmas.
Yes, Margaritaville at Lanier Islands is the perfect place to go when everyone comes home for the holidays.  Why, you might ask?
Lanier Islands has more clean bathrooms than your house.
Hardly any of your relatives will consider bringing their dogs and cats to the Islands.
Your spouse's family won't hog all the comfy sofas and chairs and demand more free beer.
Lanier Islands never runs out of food — and everyone buys their own!
You won't be the least bit upset when Crazy Uncle Fred and The Twins knock over the Christmas tree while acting out wrestling videos … because it won't be your tree that goes down for the count.
Before you plan to visit Lanier Islands this Christmas, let me give you a few options.
With the holidays just around the corner and 2018 coming to a close at lightning speed, couples, friends and families throughout the Southeast seeking new ways to celebrate the season need look no further than Georgia's Lanier Islands.

Set at the edge of Lake Lanier, the Metro Atlanta resort boasts scenic beauty, award-winning accommodations and a superlative staff devoted to creating an unsurpassed guest experience.

Through the help of a little Christmas magic, Lanier Islands will be transformed into the southern branch of the North Pole featuring the debut of a newly reimagined Magical Nights of Lights tour and the exciting launch of License to Chill Snow Island winter theme park.  Lanier Islands wraps everything up with a bow … making it easy for couples and families to break away for the holidays.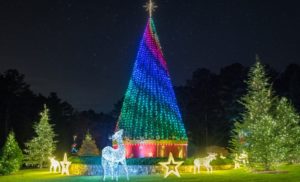 "We have it all at Lanier Islands – world-class accommodations, casual and fine dining, and a wealth of activities – self-contained within our 1,500-acre resort," said Director of Public Relations for Lanier Islands Missy Burgess.  "Add to that … a fresh Margaritaville-spin on the renowned driving tour of holiday lights – Magical Nights of Lights, the debut of the winter theme park – License to Chill Snow Island, and the opportunity to ring in the New Year lakeside, and it's clear that we offer a winning combination for a truly magical holiday season."
Magical Nights of Lights Package: With the biggest and brightest Magical Nights of Lights tour at its heart, this package comes complete with overnight accommodations at Legacy Lodge and breakfast buffet for up to four guests.
Winter Family Fun Package: Snow comes to the Deep South thanks to a $3.5-million investment by Lanier Islands' partners at Margaritaville/Safe Harbor Development, LLC.  Guests who opt for this package will enjoy two all-access passes to License to Chill Snow Island – a winter theme park that boasts new winter-themed carnival rides, an ice-skating rink, firepit s'mores, photo ops with Santa and more.  The star of the show will be an all-new snow tubing hill, the fastest in North America.  This package also includes overnight accommodations and breakfast buffet for up to four guests.
New Year's Eve Celebration Package: Lanier Islands invites guests to ring in the New Year with Party Nation – a wildly popular, crazy fun cover band that will rock the Grand Ballroom with a mix of today's hits and timeless classics.  The party includes a buffet dinner expertly prepared by the Islands' culinary team and an open bar.  Families love the Legacy Kids New Year's Eve Celebration – where the grown-ups can party at one end of Legacy Lodge, while the kids enjoy crafts, games, movie, dinner and balloon drop under the watchful eye of a Legacy Kids Club counselor (for an additional charge).  This package includes overnight accommodations, Party reservations for two, Buffet dinner for two, Champagne toast at midnight and Brunch for two on New Year's Day.
Another option?  Increase your home owner's insurance, then leave everyone back at the ranch while you and your Hunny Bunny revel in the festivities this Christmas at Lanier Islands alone.