If it's too hot to drop the top on your convertible or ride your Harley in the summer sun, it's too hot to go fishing.  Cooler weather is on the way and you'll be fishing again soon.  That means you'll want to visit one of the great bait shops on Lake Lanier.
You don't need to drop $325 on gear to get a sunburn while landing a few fish that aren't much larger than your lure.  The biggest fish I ever caught was a 10-pound, 27″ largemouth bass that I landed in a pond using a collapsible fishing pole that looked like a toy.  All you need is some line, a hook and lures or worms from one of the great bait shops on Lake Lanier.
A dancing worm on a decent bobber will work from most docks, boats or secret fishing holes along the lake.  Once you get past that step, you're on your own.  You'll find every size, shape, color and design that you can imagine to try to catch fish.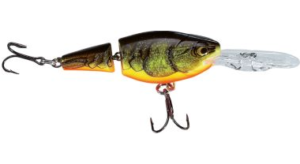 My favorite?  The Rapala® Jointed Shad Rap®, of course.  In Fire Crawdad (pictured) or FireTiger green.
Not only have I caught almost 739,394 bass with my jointed (also known as "broke-back") lures, I have lost enough of them in trees to make people think they must have been dropped from the skies by aliens.
We all know the lyrics to the Taj Mahal song.
"Any fish bites, if ya got good bait."
To catch fish, all you need is to visit Hammond's Fishing Center at 4235 Browns Bridge Road in Cumming, Georgia.  That's where you will find everything you will ever need for fishing — except Captain Ahab's personal harpoon.  They could probably order you a replica, if you'd like.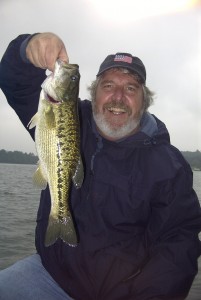 If you're looking for lunkers on the east side of Lanier, stop by Oakwood Bait & Tackle.  They're located at 5422 McEver Road in Oakwood, Georgia.  It won't take long for you to learn the difference between a fishing pole and a rod that will handle the largest striper in the lake.  Wait until you hear how many types of reels and line you can can choose from.  
There are some things that even a bait shop can't teach anglers.  Sure, you can teach a man to fish.  But it takes a few fish that fly off hooks just as you reel them toward the boat to teach a man to lie about how big the fish was that got away.  That requires years of broken lines and broken hearts.
Down toward Buford Dam, you can get all you need for a good day of crappie fishing at Buford Dam Bait & Tackle.
I'm not sure if they sell maps to secret fishing spots where the lunkers live, but don't worry.  For $10, any fisherman at any dock will point you in the right direction.  Just don't be surprised if they go the opposite way after scamming you.
No matter where you go … no matter which of the great bait shops on Lake Lanier you patronize for your supplies … just don't listen to anyone who says, "Fishing tackle is only designed to make guys buy it, not for fish to bite it!"  Even if that's true.
At the end of the day, you'll catch the most fish with the lure or bait that you use the most.  And you'll have the best relationships with the people you spend the most time with.
May your fingers always smell like fish and may your arms ache from catching fish on Lanier.