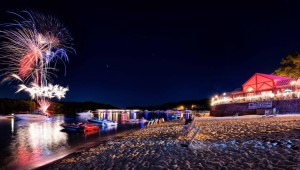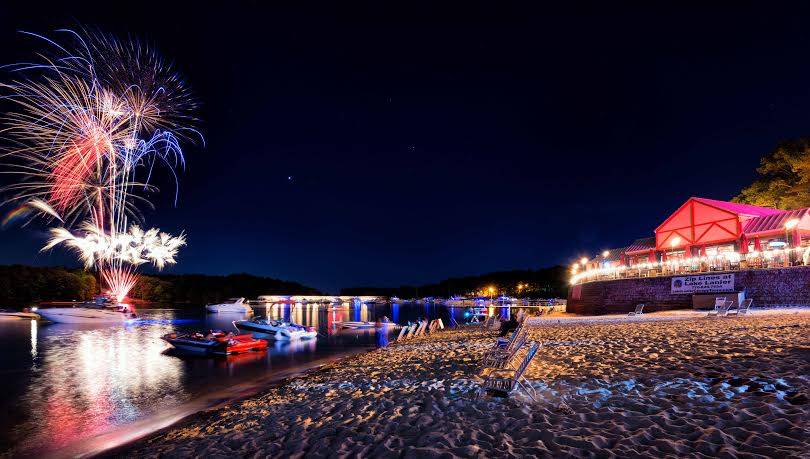 Summer begins … well, summer begins when it begins where you live.  For everyone up North who can ski, sled or skate to Georgia, summer begins when they arrive for Memorial Day Fireworks at Lanier Islands.
The celebration starts on Friday, May 27th, 2017, followed by three nights of fireworks!  Yee-hawww!
It gets harder every year for our pals at Lanier Islands to cook up better Memorial Day celebrations, but 2017 might be their best … EVER.
Here's the recipe:
Take one 1/2-mile white sandy beach
Add in more than a dozen rides, slides and attractions
Heat gently with perfect weather
Stir in equal amounts of joy from LanierWorld, the waterpark & the Fun Dunker
Mix in pretty people, happy kids and plenty of room for everyone
Turn on the music
Add plenty of food to eat and drinks for young and old
Serve everyone all the fun they want!
Oh, yeah.  I forgot.  Fireworks over Lake Lanier for three nights in a row!
"There's something truly magical about fireworks over the lake," said Bucky Perry, Director of Operations for Lanier Islands. "I can think of no better way to kick off the summer season than with a day spent lying on the beach, running up the stairs and speeding down waterslides, dining on fresh grilled burgers or slices of pizza, listening to a live open-air concert, and then grabbing a seat in the sand to gaze up at a spectacular fireworks display. That's how lasting memories are made. I think I speak for everyone here at the Islands when I say we truly love being a part of happy memories for so many couples and families throughout Atlanta and beyond. We invite them to come celebrate Memorial Day Weekend at 'Your Islands.'"
The Memorial Day Weekend at Lanier Islands
Friday, May 26:
10 am-9 pm:  Beach, Boardwalk and Waterpark at LanierWorld
3-7 pm:  Low Country Boil at Sunset Cove Restaurant
Saturday, May 27:
10 am-10 pm:  Beach, Boardwalk and Waterpark at LanierWorld are Open
4 pm:  Despicable Me on the 5-story high Spectacular Screen over Big Beach
4-8 pm:  Street Performers: Hula Hooper, Balloon Artist, Face Painter, Juggler
7:45-9 pm:  Live Performance by Street Fighting Band (Rolling Stones Tribute Band)
10:30 pm:  Fireworks Display over Lake Lanier
Sunday, May 28:
10 am-10 pm:  Beach, Boardwalk and Waterpark at LanierWorld
9 am-5 pm:  Beach Volleyball Tournament at Sunset Cove
4 pm:  Despicable Me on the 5-story high Spectacular Screen over Big Beach
7-11 pm:  Live Performance by Jessie Albright and Foster Blues on the Sunset Cove Stage
10:30 pm:  Fireworks Display over Lake Lanier
Memorial Day, Monday, May 29:
10 am-10 pm:  Beach, Boardwalk and Waterpark at LanierWorld
3-6 pm:  Live Performance by John Amoroso on the Sunset Cove Stage
10:30 pm:  Fireworks Display over Lake Lanier