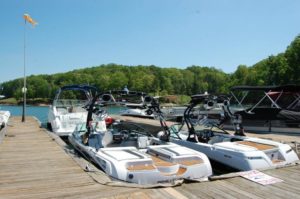 Perfect weather is forecast for the 2017 In-Water Boat Show at Lanier Islands on Saturday, April 22nd: highs in the mid-80s, a 10% chance of rain and light winds.
It's the perfect opportunity to test drive a zippy speedboat or peaceful pontoon boat.
The cost of admission to Lanier Islands for the boat show is also perfect: FREE!!
The slips at Sunset Cove and Big Beach will be filled dream-boats that — ready? — you can buy!
Live music, vendors and the glory of Lake Lanier will put you in the perfect mood to sail away on your new boat.  If you purchase one at the show, you'll get to name it yourself!
Lanier Islands Vice-President of Sales and Marketing Stephanie Orr says, ""For many, the In-Water Boat Show marks the unofficial start of lake season.  People who've always dreamed of owning a boat of their own – as well as those looking for an upgrade – flock to our docks.  Qualified buyers will have an opportunity to test drive or take part in a demo of some of the boats at the event."
Okay.  Some of us won't exactly be "qualified" to purchase yacts … yahts … great big boats, but we're all qualified to soak in some sun on the beach and to wade in the water — for free!
You don't have to dress like Gilligan, the Captain or Mary Ann to get in free.  Everyone who visits Lanier Islands to go to the 2017 In-Water Boat Show will have their regular resort gate fee of $15/car waived!  And they'll get free admission to the beach too.
Coming by water in a crummy old scow that you should be ashamed to put into Lanier?  Some courtesy slips at the Sunset Cove docks will be free for event guests who arrive by boat.
If you're good with money, put your savings toward your new houseboat!  Just so you won't be lonely on Lanier, we'll move in with you to keep you company!
Dates and Times for the 2017 In-Water Boat Show:
Friday, April 21: 

12 pm – 8 pm

Saturday, April 22:

12 pm – 8 pm / 3-9 pm Butch & the Buckheads on the Sunset Cove Stage

Sunday, April 23:

12 pm – 5 pm / 3-6 pm DJ on the Sunset Cove Stage