4th of July 2015 Fireworks Near Lake Lanier
It's time to celebrate our nation's Independence Day on the Fourth of July!  How do we celebrate this milestone in American and world history?  Fireworks, parades, cook-outs, fireworks, sunburns and more fireworks!
Now that one of Georgia's new laws for 2015 allows for real firecrackers and stuff to whistle, spin, fly through the air and set your neighbor's roof on fire, the skies this weekend should really light up.
Sadly, nothing will match the days of yore when we could buy four Cherry Bombs or Ash Cans for a buck, so we could happily blow out our eardrums or broken transistor radios.  (Kids, ask your grandfather.  He's way more cool than you think.)
Georgia does fireworks right.
If your street isn't among the thousands that have annual shoot-offs, you're welcome to view fireworks elsewhere around the area.
Most places have scheduled fireworks on Saturday, July 4th, after dark.  A couple of locations will set them off on Friday, July 3rd.  Yes, Stone Mountain and Lanier Islands – both overachievers — plan to start early and finish up on Sunday.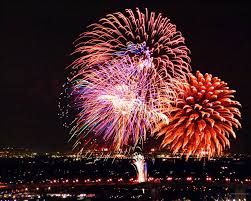 Knock yourself out and find a bunch to watch with friends.
Have fun and please don't blow your fingers off.
One more thing.  Please don't freak out when traffic gets all clogged after the last big bang.  Everybody's gonna be tired.  Everybody wants to just get home and go to bed.  You-know-who will be hungry and you-know-who will have to piddle.
Plan ahead and have fun.
We live in an imperfect but free country.  That's worth celebrating.
Happy Birthday, America!  We love you!!
Fireworks Displays