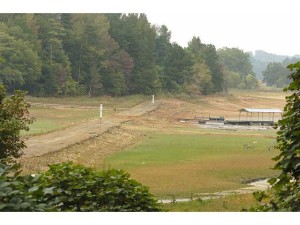 Much has been written about Lake Lanier dropping by 6″ per week.
That's bad enough, but if the National Weather Service Weather Forecast Office in Peachtree City is to be believed on this website, Lake Lanier dropped by 16″ between 7 AM on November 9th and 7 AM on November 16th.  That's 16″ in one week, not 6 inches.
• Lake Lanier Level at 7 AM on November 9th: 1060.3 feet
• Lake Lanier Level at 7 AM on November 16th: 1059 feet.
No, I don't think anyone's being deceptive or dishonest.  The average planned drop might actually be 6″ per week.  But that didn't happen last week.  Last week it was 16 inches, if I read that chart correctly.
Yes, folks downstream need a portion of the water from Lake Lanier for hydroelectric power, fish and wildlife, drinking water and navigation.  There's a drought.  We all know that.  The Corps of Engineers will release additional water through Buford Dam and from West Point Lake to help others in Georgia, eastern Alabama and the Florida Panhandle.  They're also drawing down Walter F. George Lake on the Alabama-Georgia line.
The Corps says we can expect Lake Lanier to drop about a half-foot per week, for now.  West Point's estimate is twice that: 12″ per week.
We are thankful that we're above the lake's lowest level of 1050.79 — hit the day after Christmas in 2008 — more than 20 feet below 1071, when Lake Lanier is considered "full."
Times are tough.
Politicians, state and federal agencies cannot create more water.
We must share water from Lake Lanier with those in need.  That's the American way.
We need more rain.
You can separate church and state all you'd like, but there's only one way to get it.